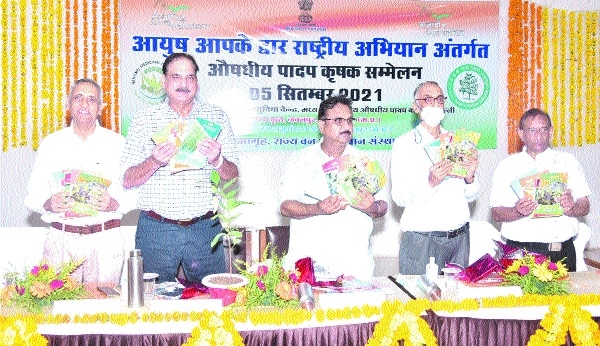 State Forest Minister, Dr Vijay Shah and forest officers releasing brochures of medicinal plants.
Staff Reporter ;
'Azadi Ka Amrit Mahotsava' was celebrated with 'Ayush Aapke Dwar' campaign for distribution of medicinal plants at the State Forest Research Institute (SFRI) and Regional cum-Felicitation Centre (RCFC), Central Zone Jabalpur, on Sunday. Chief guest on the occasion was State Forest Minister, Dr. Vijay Shah while RCFC, Central Zone, Director, Dr. PK Shukla, SFRI Director, Dr. Amitabh Agnihotri and CCF Jabalpur, RD Mahala were special guests. The programme was inaugurated with planting sapling at the hands of Forest Minister, Dr. Shah at SFRI premises. Thereafter, guests lit the traditional lamps and performed worship of goddess Saraswati.
In his welcome address, SFRI Director, Dr. Amitabh Agnihotri welcomed the guests and informed that nationwide campaign Ayush Aapke Dwar has been started under the direction of Ayush Ministry for distribution of 75-lakh saplings of herbal plants and trees throughout the country. SFRI and RCFC have jointly started the campaign in Madhya Pradesh and Chhattisgarh. Addressing the programme, State Forest Minister, Dr. Vijay Shah applauded the initiative of SFRI and RCFC for starting distribution of medicinal plants and emphasized over utmost publicity of medicinal plants amongst general public and rural areas. He informed about several initiatives of Central and State Governments for promotion of medicinal farming and use of herbal products. In second phase of the programme, Plant Cultivator Symposium was organized at SFRI auditorium. A large numbers of public representatives, persons associated with Forest, Horticulture and Ayush Department and farmers attended the symposium physically and virtually.