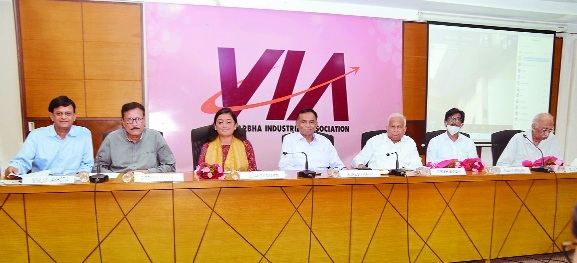 CA Naresh Jakhotia, Girdhari Mantri, Dewanshi Dwivedi, Suresh Rathi, Dr Girish Gandhi, Nilesh Khandekar and
Advo C J Thakar at the seminar on CSR provisions.
Business Bureau :
A seminar on 'A complete overview of the CSR provision' was organised jointly by Vidarbha Industries Association (VIA), Vidarbha Gaurav Pratisthan and Vanarai Foundation. The seminar was organised with physical presence as well as with participation on Zoom platform. Guest lecturer of the forum, Dewanshi Dwivedi, Senior Manager, Group CSR, JM Financial Foundation pointed out that continuous amendments have been done in the CSR policy of the nation to make it perfect and easy to implement with transparency. She explained the various requirements which corporates need to forward CSR funding and also said that 2% of the total profits have to be allocated towards CSR funding for which projects have to be formulated by the NGOs or organisations receiving the funds. Also the strict format of rules and norms for an organisation availing CSR were detailed by her.She also narrated the changes which took place and the online registration procedures for making CSR funding. CSR guidelines formulated by the Government for the corporate sector were discussed by her.
The Treasurer of VIA CA Naresh Jakhotia explained about the concept and idea of the programme. Girdhari Mantri, Chairman, VIA CSR Forum elaborated about the importance of the Corporate Social Responsibility (CSR) fund in the development of the society. He also said that VIA had collected and utilised CSR funds of Rs 1.5 crore for implementation of 'Jalyukta Shivar' in Vidarbha region of Maharashtra. Suresh Rathi, President VIA discussed the importance of the CSR expenses in the real development of the region. He also made a strong appeal for better connectivity of the corporate and NGOs for the upliftment of the region. He informed about the activities carried out by VIA during first and second waves of corona and how the contribution and efforts of VIA has made an impact. Dr Girish Gandhi, Working President, Vidarbha Gaurav Pratisthan thanked VIA, Nagpur for all the efforts taken by them to organise this valuable seminar.
He also pointed out that VIA has always helped and guided new budding entrepreneurs towards success. He also narrated the success stories of small NGOs which are successfully taking up various community development projects with frugal financial resources and utter devotion. "There is a strong need for bridging gap between corporate and NGOs for CSR expenditure," he said. These NGOs and organisations have always been deprived of funds and their humble efforts need to be strongly supported. Also the individuals working at the base of our community need to be groomed and supported. Senior Income Tax practitioner Advo C J Thakar was also present. The seminar ended with a vote of thanks by Secretary Vanarai Foundation Nilesh Khandekar.