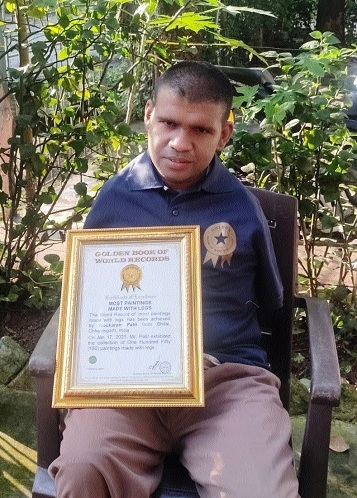 Renowned Divyang Artist Gokaran with his certificate.
Staff Reporter :
DURG,
The name of the famous Divyang artist Gokaran Patil of Bhilai Chhattisgarh has now been included in the famous Golden Book of World Records. Gokaran name has been included in the record book for making 150 paintings with his feet. These paintings include paintings of eminent personalities from the surrounding environment to the country and the world. Recently, Gokaran met Governor of Chhattisgarh Anusuiya Uikey and presented her a portrait. On which the Governor congratulated him and wished him good luck.
Sonal Rajesh Sharma, the authorized correspondent of the Golden Book of World Records, gave the certificate of Gokaran's world record by reaching his residence in Bhilai on Sunday. During this, Pradeep Pillai, convenor of the social service organisation Golden Empathy (GE) Foundation, and all the family members were present.