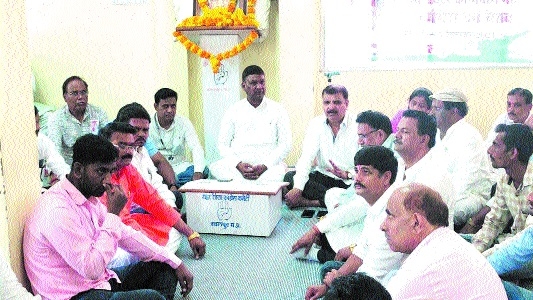 State Joint-Incharge of Congress, C P Mittal addressing the meeting of block presidents at party office.
Staff Reporter :
Congress Party's Joint-Incharge of the State, C P Mittal, on Sunday, took a meeting of presidents of various blocks and wings of City Congress Committee at the party's office in Baldevbagh. During the meeting he asked the senior leaders and other office bearers of the party to give serious thought to every aspect of the organization and make it more progressive. He also reviewed the processing of constituting Mandalam in all four Assemblies of the city. Later, senior party leaders gave suggestions during the meeting.
They raised objection over appointment of working President in Mandalam and Sectors. Party leaders said as the jurisdiction of Mandlam and Sectors is very little, which don't need any President. Hence the proposal must be abolished. They also suggested for protest alleged lethargy of Jabalpur Municipal Corporation and district administration in controlling the widespread of Dengue and other seasonal diseases in the city. Amongst those participated in the meeting were City President Dinesh Yadav, Satish Tiwari, Jhallelal Jain, Ajay Agrawal, Mukesh Rathore, Saurabh Sharma, Teekaram Koshta and others.