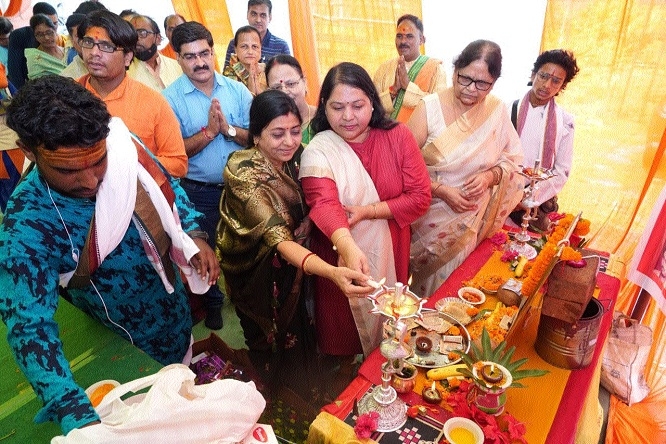 Guests inaugurating the Teez Milan Samaroh by lighting the traditional lamp.
Staff Reporter :
RAIPUR,
THE Birgaon Unit of Prantia Akhand Brahman Samaj (Chhattisgarh) organised Teez Milan Samaroh on Tuesday. MLA from Dharsinwa Anita Yogendra Sharma graced the programme as chief guest while Deputy Collector Abha Diwakar Tiwari was the special guest. State Working President of the Samaj Bharti Kiran Sharma presided over the programme. State Convener of organisation Sanjay Shukla detailed on works done at ground level. The senior members apprised on the different aspects emphasising on the importance of the organisation in the upliftment of the Brahman Samaj.
State President of the Women Cell Nisha Tiwari, State Presdient Yogesh Tiwari, Revenue Office Birgaon Deepak Diwan and Retd Lecturer N P Sharma were among the guest on the dais. The team from Birgaon unit of the Samaj including Hemlal Sharma, Pt Suryanand, Pt Meghraj Tiwari, Pt Lakshmikant and Pt Kamlesh Shukla played a significant role in successfully organizing the Teeza Milan. The state-level office-bearers of the Samaj mainly Lakheswar Pandey of Durg, sarita Tarun Sharma, Professor Sarita Dubey, Sunita Mishra, Priti Shukla, Seema Diwan, I P Sharma, Kamlesh Sharma, Gaurav Dubey and Chandrashekhar Sharma were also present.