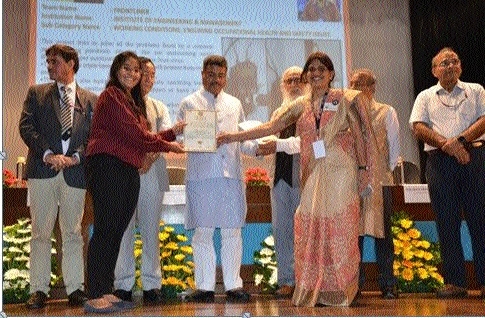 BIT student and faculty receiving the award at the hands of Union Minister for Education Dharmendra Pradhan.
Staff Reporter :
DURG,
All India Council of Technical Education celebrated Teacher's Day by organising the award function to felicitate teachers and students. The Union Education Minister Dharmendra Pradhan was the chief guest to confer the awards. Aakansha Shrivastava as a student and Dr Manisha Sharma Vice Principal BIT Durg as a faculty mentor received the prestigious AICTE Chhatra Vishwakarma National Award 2020 organized by AICTE. Union Minister of Education Dharmendra Pradhan felicitated the winners.
It may be noted that 24 teams from various Institutes in India have been awarded with the Chhatra Vishvakarma Award. BIT Durg Team is the only team in Central zone to be awarded with the Chhatra Vishvakarma Award. Akanksha Srivastava B Tech (Electronics and Telecommunication) student of BIT Durg designed a Medi Robo for assisting the healthcare professionals during the pandemic. Raj Kumar Ranjan Singh Minister of State for Education, Amit Khare Secretary Ministry of Education in Government of India, Prof Anil Sahasrabudhe AICTE Chairman, Prof M P Poonia AICTE Vice Chairman, Prof Rajive Kumar AICTE Member Secretary also graced the occasion. In his address Dharmendra Pradhan specifically mentioned about the role of the above project i.e robotics for medical adherence which can serve as a nurse during the pandemic.
Accordeing to information, the team have been awarded with first prize with a cash award of Rs 50,000 in the category "Barriers in accessing adequate health care services" for presenting a prototype /innovative solution of "Multipurpose Medical Robot" under the theme " India's Economic Recovery Post Covid : Reverse Migration and Rehabilitation Plan to support "Atmanirbhar Bharat". This Medi Robo acts as a bridge between the doctors and the patients. It enables the doctors to examine the basic medical parameters of the patients and cater to all their needs from a distance. The data of all the tests done are transmitted in real time to form a real time database in the mobile of the Doctor. The achievement of BIT Durg is being appreciated by Dr Arun Arora Director BIT, Durg, Dr Mohan Kumar Gupta , Principal BIT, BIT Trust Vijay Kumar Gupta and I P Mishra.