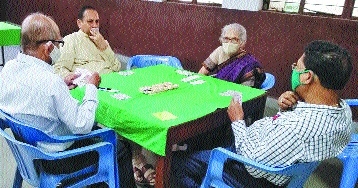 Winning pair of Basant Mohota (2L) and Sameer Roy (1R) playing against AG Karandikar (1L) and Kusum Bhave.
BASANT Mohota, who enjoys the reputation of having emerged champions in many contests in Vidarbha, succeeded again with his regular duplicate team partner Sameer Roy in pairs event organised by Vidarbha Bridge Association in their sports complex in Shankar Nagar on Sunday. Competing from a field of 9 pairs from Vidarbha region in 24 deals Match Point contest played in Howell movement, Mohota and Roy became eligible for the winners purse by virtue of having secured a tally of 45.71 MP.
They faced really tough competition from the most consistent pair of father and son duo of Raja and Amit Rewatkar who finished runners-up with a tally of 44 MP. SK Patni and PN Dixit finished second runners-up with a score 39.43 MP. Amit Rewatkar was the Tournament Director for this brain game event. Bridge enthusiasts from Vidarbha region are expected to turn up in more encouraging numbers in coming events, said Amit Rewatkar on behalf of the association.