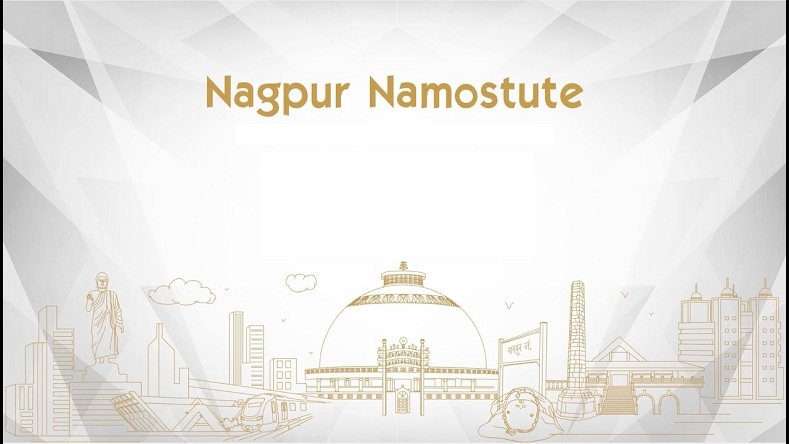 Business Bureau :
'Nagpur Namostute' has been launched. It is Nagpur's first premium digital storytelling platform, to chronicle and celebrate stories of Nagpur, which truly epitomise, represent Nagpur's soul, culture, history, heritage and people. It is conceptualised and curated by Imagine, a boutique corporate communication agency, led by Malhar Deshpande. Nagpur Namostute aims to be the one stop digital destination where people can know more about Nagpur through professionally and interestingly curated conversations, stories and formats.
The platform would present different and unique series, with different formats to its viewers in the audio-visual medium on YouTube, Facebook and Instagram. Nagpur Namostute brings stories of entrepreneurs, businessmen and social change-makers and the first glimpse of emerging trends from Nagpur's entrepreneurial, business, cultural ecosystem, as well as profiles of great businesses and entrepreneurs from all over Nagpur and nearby regions.
The aim is to strive to bring the best and the brightest leaders, change-makers and enthusiasts into the limelight they deserve. The purpose of Nagpur Namostute is to showcase the amazing spark of creation in every entrepreneur, leader and change-maker. The chronicling and celebration of such amazing stories from and of Nagpur would inspire several individuals and initiate a culture of celebrating Nagpur, finding a sense of pride in Nagpur - the great city.
The first series under Nagpur Namostute - Glocal Gurus featured conversations with 21 inspiring personalities from different sectors who have contributed to Nagpur's growth and put Nagpur on national and international map with their exemplary leadership. The stellar line-up of leaders includes Ajay Sancheti, Vilas Kale, CA Shivkumar Rao, Dr Prashant Jagtap, Dr Prashant Rahate, Dr Unmesh Mahajan, Dr Ashok Arbat, Dr Sushrut Babhulkar, Bharat Parekh, Dilip Kamdar, Shashikant Chaudhary, Mohan Gandhe, Ravleen Singh Khurana, CA Rajesh Loya, Anuj Badjate, Pankaj Agrawal, Vipul Gupta, Nikhil Mundle, Sarang Upganlawar, Rajnikant Bondre and Viren Thakkar. The inspiring conversations with these amazing leaders on their journey, professional learnings, growth strategies, leadership mantras would immensely benefit the viewers of all age-groups. The series was supported by Goel Ganga Group.