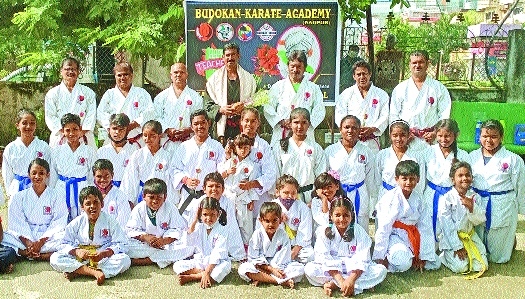 Principal Correspondent :
KARATE Bodokon International recently organised a karate training session. The training session was organised at Ramainagar Buddha Vihar under the aegis of Karate Budokon International and Budokon Karate Academy. On the occasion, Kyoshi Harish Choube, National Chief Instructor and Examiner, Style Chief of Karate Budokon International (Vidarbha Region) gave training to the students. He was also felicitated on Teacher's Day with a shawl and shriphal. The programme was organised by Renshi Karunkumar Tirupude, Zonal Chief Instructor of Karate Budokon International.
Renshi Karunkumar Tirupude, Renshi Virendra Lautkar, Renshi Rajesh D'Silva, Renshi Pawan Sahare, Renshi Raju Sakhre, Renshi Virendra Lautkar, Renshi Pramod Jambhulkar, were prominently present on the occasion. During the programme, all these senior trainers were welcomed with a bouquet. Choubey said that sports is an important part of growth and development of a student. It helps in the development of mental health and physical fitness of the body. Through participating in sports and games, a student acquires various skills, experiences and confidence which are helpful for the development of their personality. Kyoshi Harish Choube provided karate training to the students and explained the merits of karate and basic practice of karate. Choube garlanded the statue of Dr Sarvepalli Radhakrishnan. Sensei Disha Choube, Sensei Avni Khobragade, Sensei Arindam Bhattacharya and Avantika Somkuwar were also present on the occasion. Renshi Virendra Lautkar conducted the programme and also proposed a vote of thanks.