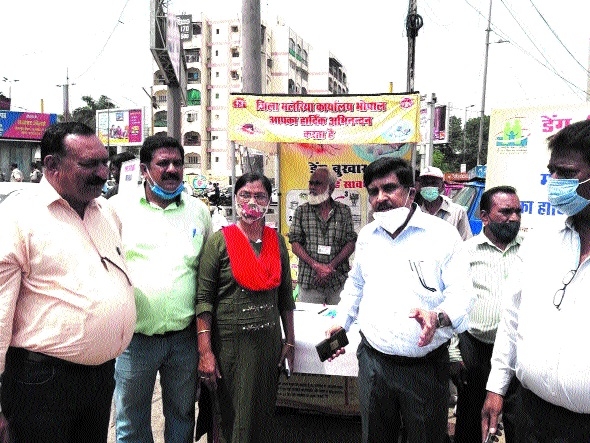 CMHO Dr Prabhakar Tiwari, DMO Akhilesh Dubey, District
Malaria Advisor Ruchi Silkari and Malaria Inspector Urmila Singh during the Dengue and Malaria camp held in Bhopal's Roshanpura on Tuesday.
Staff Reporter :
As per the directions of Chief Medical and Health Officer (CMHO) Dr Prabhakar Tiwari and under the leadership of District Malaria Officer (DMO) Akhilesh Dubey, Dengue and Malaria camps were organised at Roshanpura locality of Bhopal on Tuesday. During Larvae inspection in the camp, Larvae were detected in Zone 3, Ward No 12, Sharda Nagar, Nariyalkheda, which were destroyed after checking the containers. The team informed the general public about the ways to prevent malaria, dengue, chikungunya and encouraged the use of mosquito nets while sleeping. District Malaria Officer Akhilesh Dubey informed that to avoid dengue and malaria, use mosquito nets and maintain cleanliness around the house.
During this, the entire team was directed to reach the field regularly and take prompt actions for larva survey and larva destruction. During this, District Co-ordinator Family Health India Dr Santosh Bhargava and District Advisor Malaria Ruchi Silkari appealed to all the people in the camp to exercise regular cleaning to curb the growth of mosquitoes and change the water every seven days. The team distributed pamphlets during the health camp and larva survey was conducted under the leadership of Malaria Inspector Urmila Singh. During the survey, the people present were tested for malaria. The Anganwadi workers were also present at the camp.