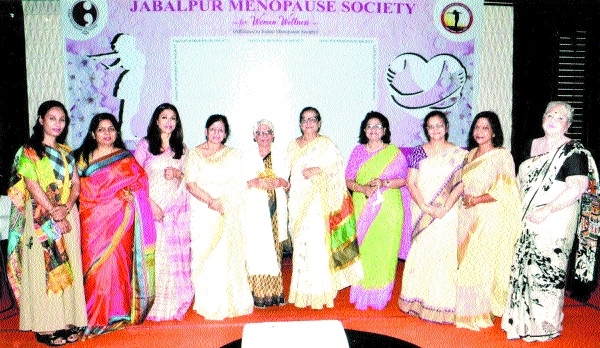 Medical experts participating in the debate held by Jabalpur Menopausal Society.
Staff Reporter :
Dr Pragya Dhirawani, President, Jabalpur Menopausal Society and Secretary, Dr Archana Shrivastava hosted a debate for the members of Club 35 Plus. Dr Abhay Shrivastav, President, Jabalpur Orthopedic Association, Secretary,Dr Jatin Dhirawani, Dr Nachiket Panse and Dr Sparsh Naik informed the participants with their knowledge and redressed the doubts of the Club members. The experts discussed about various healthy way to strengthen the bones and to stay protected from Osteoporosis. The participants also availed benefit of BMD test in the camp.
Dr. Nachiket Panse from Anant Hospital assured the members of Club 35 Plus to provide facility of Dexa Scan on discounted rate. During second phase of the programme, teachers and senior Gynaecologists, Dr. Rama Shrivastava, Dr. Shashi Khare and Dr. Arvind Lele were honoured marking the occasion of Teacher's Day. The teachers explained about the art of living. Those who attended the programme included Dr Kavita Singh, Dr Neena Shrivastava, Dr Sangeeta, Dr Shankaran, Dr Swaraj Naik, Dr Chitra Sen, Dr Roma Nag and others. The programme was anchored by Dr Richa Dhirawani.