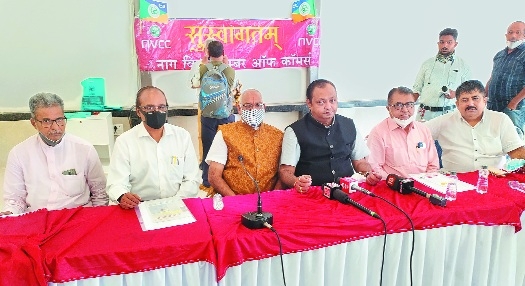 Business Bureau :
From March 2020, the traders as well as the common man have been financially affected due to restrictions imposed by the Government to stop the spread of COVID-19 pandemic. The traders have been suffering from small lockdowns imposed by the civic administration from time to time. Now the civic administration has hinted that another lockdown will be imposed on the traders as the number of positive cases has gone up in double digit. This was discussed in detail at a press conference organised on Wednesday by NVCC. "NVCC will oppose the upcoming lockdown as hinted by the Power Minister and Nagpur Guardian Minister Dr Nitin Raut on September 6," said Ashwin Mehadia, President of Nag Vidarbha Chamber of Commerce (NVCC). In the morning, a delegation of Nag Vidarbha Chamber of Commerce under the leadership of Mehadia, held a meeting with District Collector R Vimala.
The meeting was part of consultation process, as announced by Nagpur Guardian Minister Dr Nitin Raut with stakeholders, before taking final call on reimposing restrictions in Nagpur district. In the meeting, Mehadia had explained to Collector about the June 4, 2021 order issued by State Government dividing entire State in five levels for locking and unlocking formula for respective districts depending on weekly positivity rate and occupancy rate of oxygen beds. He further said that even after two-digit positive cases being reported for last three consecutive days, the weekly positivity rate of Nagpur district is 0.21%. Today there are 65 active cases and ample oxygen beds available in district hospitals. Mehadia said that the NVCC would resort to agitation (Andolan), if another lockdown is reimposed by the civic administration as it was not necessary and unwarranted for as the number of positive cases have dropped in the Nagpur district. Mehadia said that lockdowns have adverse effect on the business community especially when the festival season has just begun. If the lockdown is imposed, the traders will suffer huge financial loss.
Civic administration should be sensitive to the misery of citizens and the hardship they are facing due to frequent lockdowns from time to time. After the hint given by Dr Nitin Raut on September 6, several people have started cancelling marriage ceremonies, engagements and other functions. "There is lot of confusion among the people. Such statements by a person like Guardian Minister instill fear among the minds of people," Mehadia pointed out. Prominently present in the meeting were Hemant Gandhi, Past President of Chamber, Farooqe Akbani, Shabbar Shakir, Sanjay K Agrawal, Ramawtar Totla, Arjundas Ahuja, Sachin Punyani and others.