By Ravi Chandpurkar :
As an eye opener for investors some of the Nagpur-based listed companies on the BSE/ NSE have given exceptionally good returns to shareholders in the current bull run during the first nine months of 2021 between January 1 to September 1, 2021. In some cases the share prices of these companies have doubled and other cases surged by more than 3 times during the first nine months of the year. Overall these companies are having operations in varied sectors and not concentrated in one single sector. Their operations are spread out in sectors like Defence, steel, oil and gas, paper, synthetic fibre, industrial belts etc. Looking at the chart, one can see that most of the companies have given decent to above average returns to investors during the first nine months of 2021. For example, Solar Industries (India) Limited with operations in the Defence sector, its share price is continuously moving upwards.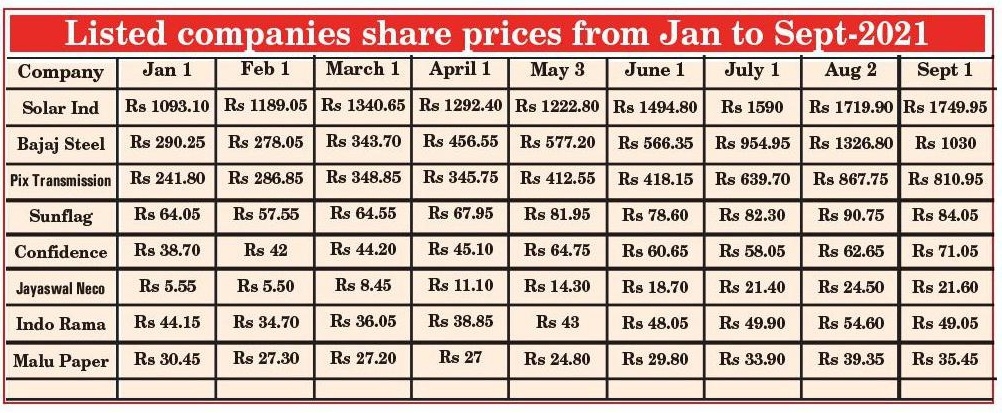 The share price has moved up from Rs 1,093.10 on January 1 to Rs 1,749.95 on September 1, 2021, a gain of Rs 656.85 per share. Similarly, other companies like Bajaj Steel, Sunflag Iron and Steel Company Ltd, Indo Rama Synthetics (India) Ltd, Pix Transmission Ltd, Confidence Petroleum (India) Ltd, Jayaswal Neco India Ltd and Malu Paper have all given an opportunity to investors to make handsome gains. The rise in prices could be due to various reasons like strong order book, high demand for products like steel, increase in profit margins, restructuring and infusion of investment, quality improvement etc. Although big companies from private sector on national-level are making waves on the bourses by climbing new peaks, eight Nagpur-based companies too are not lagging behind. These eight companies which are listed on the bourses their share prices have increased with the passage of time as Sensex seems to be on its northwards journey.
Although, these companies all have their manufacturing units in Nagpur which is designated as an industrially backward area, the promoters of these companies have done remarkable job in managing their companies and providing good return to investors and shareholders. None of the companies in the chart are penny stocks and promoted by fly by night operators. The promoters of these city- based companies given in the chart with their determination and management skills have set an example for others to follow. It could time for many more promoters to expand their operations and raise investments through the initial public offering (IPO) route.