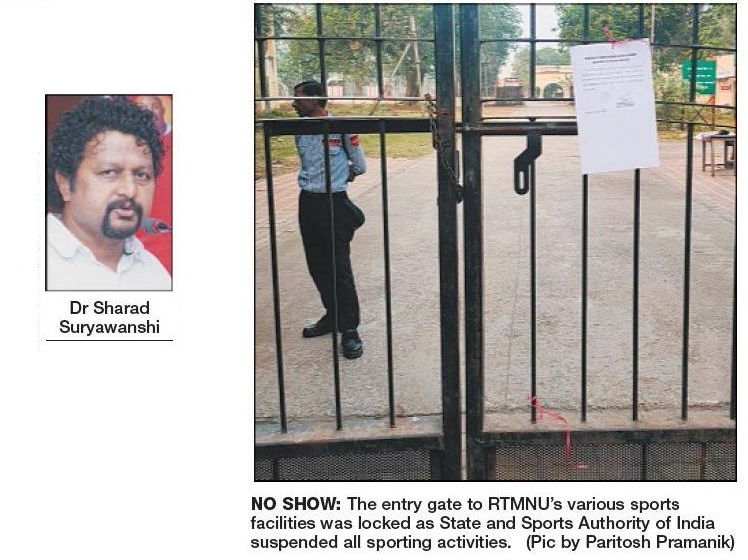 By Anupam Soni :
PLAYERS who have been selected as part of a big vision should have been left with at least their regular practise, feels Dr Sharad Suryawanshi, Local Co-ordinator for Sports Authority of India's (SAI) Khelo India Centre that is run by Rashtrasant Tukadoji Maharaj Nagpur University (RTMNU). In view of rising COVID-19 cases, the Sports Authority of India has decided to close 67 SAI Training Centres across the country. The decision also comes in the wake of directives issued by various States to suspend sporting activities for the safety of athletes. Though the SAI National Centres of Excellence (NCOE) that is coming at Wathoda in the city is in its nascent stage, the apex sport body has allotted one of the Khelo India Centres to the city for four sports — basketball, badminton, athletics and handball. Smita Bakre, Jayendra Dhole, Sayali Waghmare and Dr Dhiraj Bhoskar are the respective coaches.
"Young players at the Khelo India Centres are selected for an eight-year cycle with an aim of securing medals in the Olympics. The players are in the age group of 10-18 and are being trained keeping in mind the mega quadrennial event. If these players are not allowed regular practise, it will definitely hurt the progress. I am okay with players not participating in the events or travelling but I strongly feel that they must at least by allowed to practise," said Dr Suryawanshi while presenting his views to 'The Hitavada' on the blanket ban of all sporting activities. Dr Suryawanshi went on, "With no practise, even morale of the players is affected. We are into the first year (of the Khelo India Centre) and the training is getting a back seat with this on-off practise schedules.
We have an intake capacity of 120 players and there are about 80 players from the four disciplines training hard under their respective coaches." All the West Zone inter-university tournaments have been cancelled jeopardising players' and varsity's plans. "All the upcoming tournament have been cancelled at the eleventh hour. We had booked tickets for all of our teams. Some tickets were booked from Tatkal quota. Now, we will have to cancel all those. Nobody knows whether the tournament will take place or not. It will be a huge loss of players," Dr Suryawanshi, who is also Director, Department of Physical Education, RTMNU, lamented.