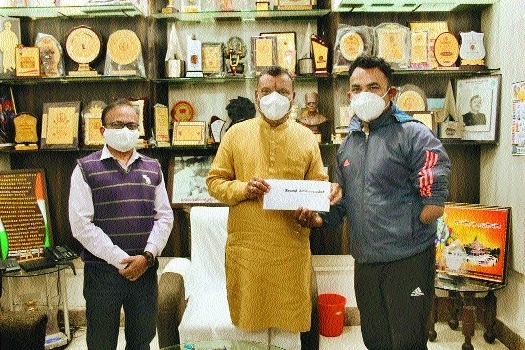 Mayor Dayashankar Tiwari appointed Gurudas Raut (R),
former captain of India divyang cricket team, as Brand Ambassador to create awareness about cleanliness in city.
Sports Reporter :
UNDER the Swachh Bharat Abhiyan, Nagpur Municipal Corporation appointed three Brand Ambassadors to create awareness among the citizens about cleanliness with a view to increase the ranking of Nagpur City for the Clean Survey 2022. One of the ambassadors is Gurudas Raut, ex-captain India divyang cricket team. Kaustav Chatterjee, President of Green Vigil Foundation and RJ Rajan of My FM are the other two. A certificate to the effect was handed over to them by Mayor Dayashankar Tiwari on Monday. Along with Tiwari, Additional Commissioner of Municipal Corporation Ram Joshi, Nodal Officer of Solid Waste Management Department Dr Gajendra Mahalle, Anil Kolhe of Swachh Bharat Abhiyan, Surabhi Jaiswal of Green Vigil Foundation, Shriya Joge, Mehul Kosurkar, Ashok Katekar and Nameshwar Shri Ram were present.
The importance of cleanliness will be emphasised in the city through these brand ambassadors. Maharashtra Cricket Association for the Disabled, Nagpur Physically Challenged Cricket Association, Uttam Mishra, Adwait Manohar, Prashant Vaidya, Sharad Padhye, Namdev Balgar, Sanjay Bhoskar, Nutan Umredkar, Vijay Munishwar, Bhushan Dadve, Dhananjay Upasani, Piyush Ambulkar, Anil Kotangle, Sachin Thombre, Rahul Lekurwale, Ashok Katekar, Vinay Yadav, Janak Shahu and others congratulated Raut and wished him good luck for new responsibility.