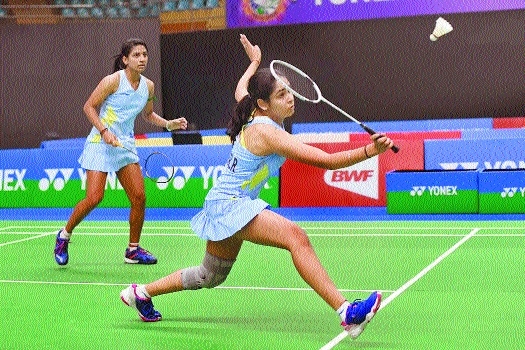 City's Ritika Thaker plays a return during her doubles first round match against Ukrainians Mariia Stoliarenko-Yelyzaveta Zharka. Her Mumbai partner Simran Singhi looks on. (BAI)
Sports Reporter :
IT WAS a sweet revenge for the Ritika Thaker-Simran Singhi pair while another city shuttler Mugdha Agrey went down in women's singles first round of the Yonex-Sunrise India Open organised by the Badminton Association of India (BAI) that kicked off the 2022 international badminton season at KD Jadhav Indoor Hall of the Indira Gandhi Indoor Stadium on Tuesday. Ritika-Simran, who had lost their women's doubles match to the same combination of Ukrainians Mariia Stoliarenko-Yelyzaveta Zharka in the Ukraine Open in September 21, extracted revenge 14-21, 22-20, 21-19 in an edge of the seat encounter. The thriller lasted four minutes more than an hour. The Indian combo of Nagpur and Mumbai, Ritika-Simran lost the first game. But the duo did not give up. They kept on fighting for each and every point. The second game went into a tie-breaker and the Indian pair grabbed it 22-20 to level the scores at one all. In the decider, it was again the same fight.
All the four players were giving their best but Ritika-Simran had the last laugh as they showed better control over their nerves at crucial points taking the match with third game at 21-19. Incidentally, at the Ukraine Open, Ritika-Simran won the first game comfortably 21-13 and were leading 18-13 but at that stage, Simran who had just recovered from typhoid, started feeling unwell. They fought but lost 19-21, 13-21. Ritika-Simran next play Deeksha Choudhary and Yashica Jakhar. In women's singles first round, Mugdha looked rusty and could not find her bearings, Though she came up with an improved performance in the second game, she lost to Panchkula girl Anupama Upadhyaya 21-11, 21-15 in straight games in 41 minutes.