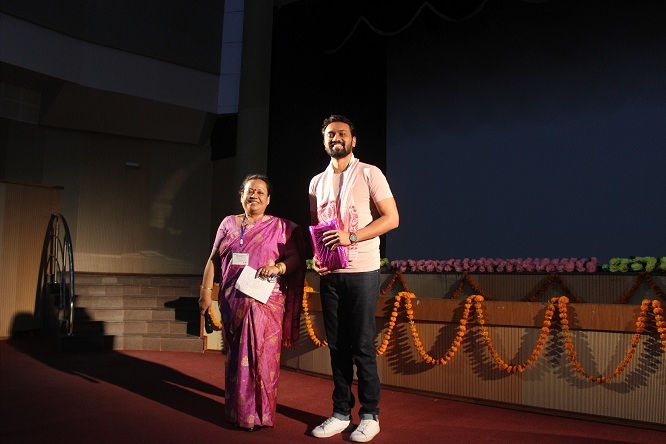 Staff Reporter :
RAIPUR,
4 SUM bags the most prestigious award of Best Film and Best Actor and Best Music at Jaipur Intl Film Festival, 2022
4 SUM becomes the Best Indian Feature Film at JIFF n Yashwant Anand Gupta receives the Best Actor n Nilesh Patange receives the Best Music Award
Movie "4 SUM" received three awards in Jaipur International Film Festival (JIFF)-2022, which concluded at Jaipur recently. Renowned screenplay writer Javed Siddique was the chief guest of this ceremony. He was honourred with the Lifetime Achievement award in the 14th edition of the JIFF. Movie "4 SUM" has been written and directed by Neeraj Gwal and produced by Abhishek Gwal. Along with Best Direction, Best Film, Best Music and Best Actor The film has received many awards at 16 International Film Festivals globally. It is a matter of great pride for tje state that Filmmakers of Chhattisgarh are making big in the industry internationally. This is Neeraj Gwal's first feature film that has brought laurels to him and the state, recently he has also won Best Director at the prestigious Caleidoscope Indian Film festival of Boston 2021. Yashwant Anand Gupta has been working as an actor and theatre artist for 8 years. He has worked in many plays and films.
He duly received a nomination as best actor in Japan where 4 SUM won Best Director award. And finally received his dues at Jaipur as Best Actor. Nilesh Patange is a FTII graduate, he has done the Music of the film and for his amazing score he has been awarded Best Music at JIFF. From 52 countries 279 films were selected and amongst 15 Countries 28 Jury members selected the winners of this amazing Festival. The movie has been shot in Bhilai. All the cast are from Bhilai and Rajnandgaon. Yashwant Anand Gupta, Pranav Chandrakar, Saurabh Burade, Arun Kumar Mishra, Neeraj Uke, Pankhudi Shrivastava are in the lead roles . And veteran Actors as Anil Sharma, Ajeet Rahane, Subrat Sharma, Vandana Bhagat and Kaushal Kumar Upadhyay will be seen playing vital roles in the film. Movie "4 SUM" has been made under the banner of Guilty Engineers revolves around the story of 4 friends and how Drugs and other addictions affect their lives. Young film maker Neeraj Gwal said that the movie will be released on an OTT platform.