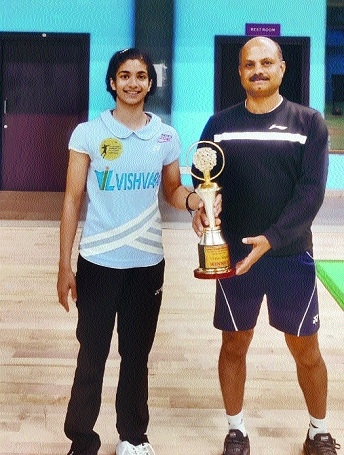 By Anupam Soni :
THERE is always one player who triggers the beginning of the end of an era or of a champion. Malvika Bansod inflicting a defeat on Olympic medallist and former India Open champion Saina Nehwal might be that moment, feels junior national coach Sanjay Mishra, who trains Malvika at his Raipur academy. Nagpur's Malvika defeated the senior pro in straight games in second round of the India Open in progress in New Delhi on Thursday causing a huge upset in the tournament. Mishra was happy to share with 'The Hitavada' that his ward stuck to the plan. "We had a lot of talk yesterday on the strategies to be adopted against Saina. I am glad that Malvika played well and according to the plan. We wanted Malvika to engage Saina in long rallies as at present, Malvika's fitness is at much higher level than that of Saina. We wanted to take advantage of that.
"The long rallies exhausted Saina and that was clearly evident in the second game. Malvika really played well to pull it off," said Mishra on the game plan ahead of the big match. Mishra encouraged Malvika by urging her to encash the golden opportunity of stunning a famous player. "When one is playing against a very senior and proven customer, one needs that mental boost ahead of the crucial game. Malvika asked me how to control her feelings if she takes lead against Saina and I told her that it was a golden opportunity for her to become a leader rather than a follower. "I told her that all champion players have to go one day. They go because they start losing at some point of time.
Once that champ is beaten, other players gain confidence from that and they also feel if someone has beaten the champ, they can also win against that player. "I asked Malvika to be a leader and not the follower. I told her that this was a golden opportunity to be a leader and instead of waiting for others to beat a champion player and then think of beating her, why don't you take lead. Other players should say 'if Malvika has beaten her so why not we?' She agreed and the rest is there for everyone to see," said Mishra who was watching his ward from the gallery. Malvika exhibited excellent fitness in the match but the coach thinks that there are areas which still needs improvement. "She is extremely fit. But there is scope of improvement in speed and power and we are continuing with the process," Mishra opined. On her next match, Mishra said, "She will be up against old rival Aakarshi. They have been playing each other since a long time...they know each other well. Before every match we discuss about 40-45 minutes and we will do that for the quarters also," Mishra signed off.