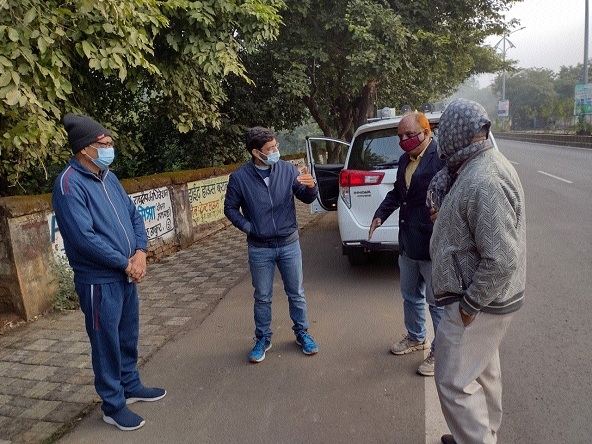 Municipal Commissioner Vashisht giving instructions to senior officials while inspecting cleanliness arrangements under Ranjhi division.
Staff Reporter :
Municipal Commissioner Ashish Vashisth along with senior officials inspected cleanliness arrangements in many wards under Ranjhi division, on Thursday. During inspection, he held discussion with women sanitation workers about cleanliness work and also apprised them of facilities they have been provided by the civic body. In order to improve the ranking of Jabalpur in Swachh Survekshan Abhiyan, Municipal Commissioner Vashisht is inspecting cleanliness works regularly. On Thursday he along with Executive Engineer Kamlesh Srivastava, Divisional Officer Umesh Topre, and Chief Health Inspector in-charge Anil Mishra visited wards under Ranjhi division and examined cleanliness arrangements.
The Municipal Commissioner inspected cleanliness and asked senior officers to be well versed with the map of the division and wards. He said for the ease of works, it is necessary the all field officers must have a copy of map of the wards with them. He also inspected Sharda Nagar road from Vehicle crossing, where he saw heaps of garbage were lying along road. Expressing great displeasure over the same he directed to cut seven days salary of Chief Sanitation Inspector of division number 10 and ensure proper cleaning of the area. Immediately after the instructions senior officials engaged machineries and human resources and ensure proper cleanliness from Vehicle crossing to Sharda Nagar.