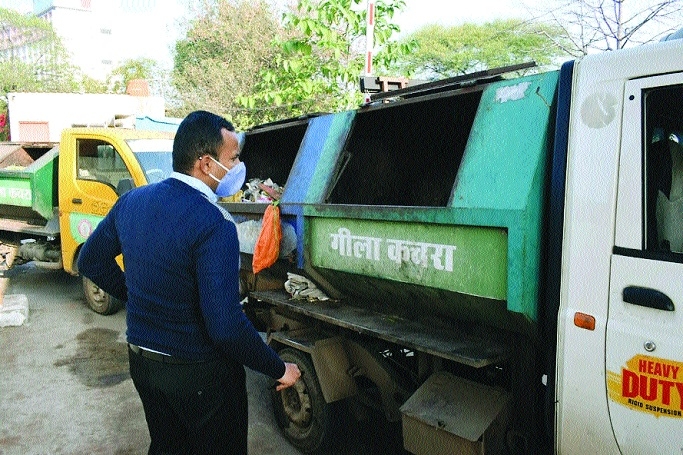 Staff Reporter :
Municipal Commissioner KVS Chaudhary inspected various places of city on Thursday. He also took stock of garbage transfer stations and gave necessary instructions regarding cleanliness. As per his instructions, vehicles parked near New Market Police station boundary wall will be removed and left turn of New Market would be cleared for smooth flow of traffic. He also did surprise inspection of garbage station of Bhadbhada and expressed resentment on non maintenance of dry and wet garbage in garbage transportation vehicles. He directed to deduct salary of one day of each four magic drivers. He warned that in future if they were found mixing dry and wet garbage then action of terminating their service will be taken.
He also instructed to complete the works shortly of MRF and C&D Plant of Jatkhedi Garbage Station. He also took stock of cleanliness arrangement in Battalion area and Police Line in New Market and Bhadbhada areal respectively. He also directed to remove the shops around the Tatya Tope square in New Market and clear the left turn by removing the handcarts creating impediment in traffic flow. During inspection of Bhadbhada Police Line, he instructed for proper cleaning of the locality.
Fogging drive continues in city The fogging exercise being done by Bhopal Municipal Corporation is going on in unabated manner. On Thursday, BMC vehicles did fogging in Brij Colony, Mulla Colony, Shahid Nagar, Motilal Nagar, Anna Nagar, Nawab Colony, Blue Moon Colony, Shyamla Hills, Raj Bhawan Parisar, Nadir Colony, Dharmapuri, Ahata Rustam Khan Locality etc.