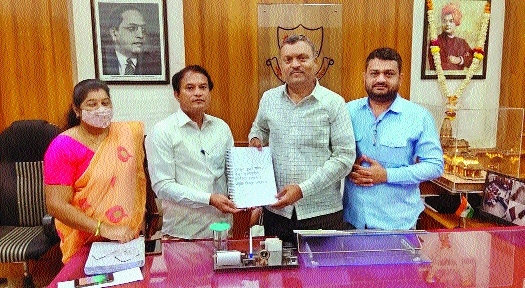 Report on status of parks handed over by NIT to NMC being submitted to Dayashankar Tiwari by committee of corporators.
Staff Reporter :
The committee submitted the report of its survey to Mayor on Thursday
A committee of corporators submitted its report about factual status of parks that were transferred to Nagpur Municipal Corporation (NMC) by Nagpur Improvement Trust (NIT). The report was submitted to Mayor Dayashankar Tiwari on Thursday wherein they recommended heavy repairs in majority as the prevailing condition was quite bad. Ever since NIT handed over these parks to NMC, it stopped payment of old bills of contractors appointed for maintenance. The committee was constituted under the chairmanship of Rajendra Sonkusare, Chairman, Architecture Committee. Members of the committee -- Nishant Gandhi, Deputy Chairman, Architecture Committee, and Vandana Chandekar, were present on the occasion. Other members of the committee included Rupa Rai, Deepak Wadibhasme, Vandana Bhure, Asha Uikey, Manoj Gawande and Vaishali Rohankar.
NIT transferred 44 parks created by it to NMC over which city fathers raised objection saying this would create financial liability on the civic body that was already struggling for funds. Against this backdrop, Mayor constituted the committee to assess factual condition of these parks. The committee inspected these parks five times and of these 3 are in good condition, 20 are in normal condition and 21 are in very bad shape. Of 44 parks, 3 require minor architectural works while 20 need repairs to walking track, while compound, repainting works and construction of safety walls are required in 21 parks. Further renovation of walking tracks, laying of new drainage lines, installation of existing guard rooms, toilet facilities and other facilities also are needed to be created in these parks. Toys and Green Gym need to be repaired and new materials be made available, the committee recommended in its report.
The committee stated that it was necessary to renovate the sculptures and murals in the big parks of NIT, the fountain also needs to be renovated, yoga sheds also are in need of repairs and a fresh coat of paint and electrical system needed to be overhauled. All these parks lack maintenance and tenders for new maintenance of these parks need to be called and the expenditure incurred on renovation should be included in the revised budget, said Rajendra Sonkusare. The maintenance of these parks was stopped from July 5, 2020, NIT and from July 6, 2020 to April 5, 2021, the previous contractors were maintaining the gardens.
The maintenance of the parks was stopped due to non-payment of their bills. Considering the complaints received from the citizens regarding the maintenance of the park, the corporation approved the transfer on September 8, 2021. The committee has recommended that the Nagpur Municipal Corporation should bear the cost of maintenance, renovation and security guards' salaries incurred in the parks from July 6, 2020 to date.