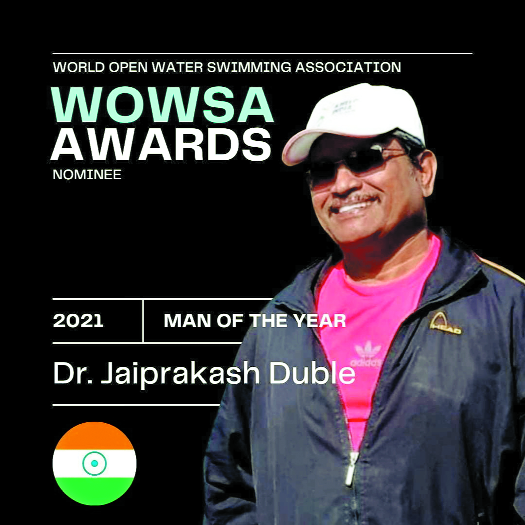 Nagpur's Dr Jaiprakash Duble, former Joint Director of Department of Sports, Government of Maharashtra, has been nominated for World Open Water Swimming Association (WOWSA) Man of the Year award 2021.
World Open Water Swimming Association (WOWSA), America annually recognises world's open water swimmers, products, services and events in five different categories via a global online poll.
Dr Duble is only from Asia to be nominated for the award.
The WOWSA awards are given to honour those who embody the spirit of open water swimming, possesses sense of adventure, tenacity and perseverance that open water swimmers are known for, and have most positively influenced the world of open water swimming.
Participants have to apply for award. From the received nomination forms, WOWSA finalises the names of around 15 people across various countries.
Further from this 15, one person finally receives the award in the respective category after receiving online votes globally.
The last date for voting is January 31, 2022.
Apart from Dr Duble, others who applied for the awrds include Stephane Lecat (France), Andre Slade (Australia), Boguslaw Ogrodnik (Poland), Neil Agius (Malta), Joseph Zemaitis (USA), Paul Georgescu (Romania), Pablo Fernandez Alvarez (Spain), Josef Koberl (Austria), Steve 'Seal' Stievenart (France), Simon Griffiths (Great Britain), Kristof Rasovszky (Hungary), Damian Blaum (Argentina), Joel Matos Ortiz (Puerto Rico), Florian Wellbrock (Germany).
Dr Duble has completed one year Swimming Coaching Diploma from Netaji Subhash National Institute of Sports (NSNIS), Patiala in the year 1985 and became senior most coach in the State. He has also been coach for six years at Shri Hanuman Vyayam Prasarak Mandal (HVPM), Amravati, Maharashtra.
Dr Duble is the first from Vidharbha to train swimmers for English Channel, England, International Marathon Swimming at Switzerland, Strait of Gibraltar, Spain, Palk Strait, India-Sri Lanka.
He has also accompanied his trainees during their swimming expedition and gave them acclimatization training. Along with this, he has also trained swimmers for various open water swimming competitions held in India as recognised by Swimming Federation of India, solo swimming, 81 km long distance swimming competitions, etc.
Those willing to vote for Dr Duble can do so by clicking on the links given below:
For Voting Registration is compulsory. https://www.openwaterswimming.com/login/?action=register.
After registration to vote open the below link https://www.openwaterswimming.com/contestants/dr-jaiprakash-duble-india-2021/3) After opening the above link select 'VOTE NOW' option.
After successful voting a message of 'Voted Successfully' will be displayed on the screen.
Voters will have to take screenshots and will have to send it to 9975590227.