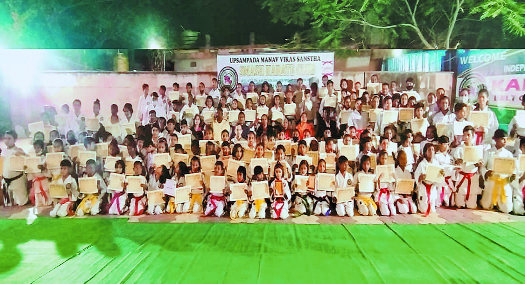 Karatekas of Smash Karate Club successfully cleared the belt gradation examination which was recently held at Bezonbagh.
The examination was conducted for karatekas of Smash Karate Club, Winners Karate Academy and Nagarjun Karate Academy.
Around 244 karatekas appeared for the belt gradation examination who were declared successful. All the participants were rewarded with certificates at the hands of Mamta Sahare, Corporator Prabhag 9.
On the occasion, Rajni Fulzele, Nagsen Fulzele, Birendra Khairawar, head coach Sensei Shrikant Meshram, Sensei Amit Shende and others were also present.
The participants performed nanchak, kata, kumite, aiekudo.
Eleven karatekas were declared as the karatekas of the year while six students won the belt grading scholarship. Apart from karatekas, 10 parents were also rewarded as best parents of the year. The programme was conducted by Sensei Akshay Chawre while Sensei Ragini Chaudhary proposed a vote of thanks.
All the karatekas were trained by Sensei Amit Shende and Sensei Akshay Chawre.
Brijesh Ramteke, Shikha Lautre, Sensei Amit Tembhurne, Sensei Kalaksh Gondane, Akash Khobragade, Yachika Kotangale, Saloni Jambhulkar, Niharika Nagdeve, Labhshree Gawai worked hard for the success of the event.