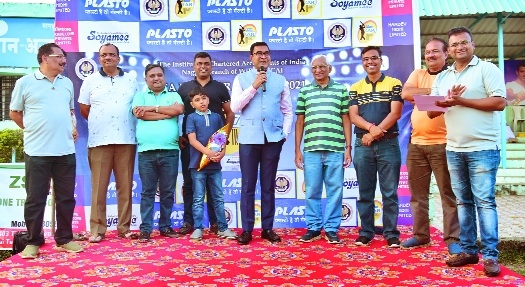 Vishal Agrawal addressing the gathering.
Business Bureau :
NAGPUR Branch of ICAI organised the 11th edition of Chartered Accountant Premier League - Plasto CAPL Cup 2021 recently. The title sponsor of the event was R C Plasto Group. Vishal Agrawal, Managing Director, Plasto Group in his address to participants said, "There is no short cut to success. Physical and mental health both need to be balanced to achieve success. The Chartered Accountants are the financial architects of our country which manages the whole economy of the country."
Agrawal further said, "There are obstacles in the life of ever person. One who rises to the occasion wins." He said that it was privilege for Plasto Group to be associated with ICAI, Nagpur Branch for this sporting event Plasto CAPL Cup' 2021. He congratulated Team Nagpur Branch of ICAI led by CA Saket Bagdia and his team for not only doing great activities but also taking care of member's fitness by organising such sporting events. Neelesh Agrawal, Managing Director, Plasto Group said, "The two most important alphabets of trust are CA. Winning and losing are two factors of everyone's life and one needs to keep himself motivated to achieve goals." Vaibhav Agrawal, Director of Plasto Group congratulated all the teams which participated in the Plasto CAPL Cup' 2021. CA Jaydeep Shah, past President of ICAI lauded the efforts of all the players for their team spirit and leadership while playing cricket.
"All work and no play makes Jack a dull boy," said CA Saket Bagdia, Chairman, Nagpur Branch of ICAI while acknowledging that the Chartered Accountants get so much engrossed in performing their professional functions that seldom they ignore their physical fitness. "CAPL is an annual event of Nagpur Branch and it helps to foster spirit of brotherhood and networking amongst the CA players," he added. Bagdia expressed his deep gratitude to Principal Commissioner CGST Balbir Singh, Deputy Commissioner CGST Swachhand Chauhan, Rahul Joldapke and entire CGST XI Team for playing a competitive friendly match with Nagpur ICAI XI. He presented his gratitude to Deputy Commissioner SGST Vinod Gawai, Sunil Lahane and entire SGST XI Team for playing a friendly competitive match with Nagpur ICAI XI. Bagdia congratulated the winning team 'Khatarnak Kala King Kobra' led by CA Karan Dave and Runner's Up Team 'Jaguars' led by CA Abhishek Joshi for a splendid performance. More than 300 CAs as players and spectators were involved in the event. Total 18 matches organised in the tournament between 8 teams in league, super league and final format. Semifinal and final was played at DSA ground, Ajni.