YMFC win but Nagpur Blues stay in Elite League Qidwai to take on Big Ben in relegation final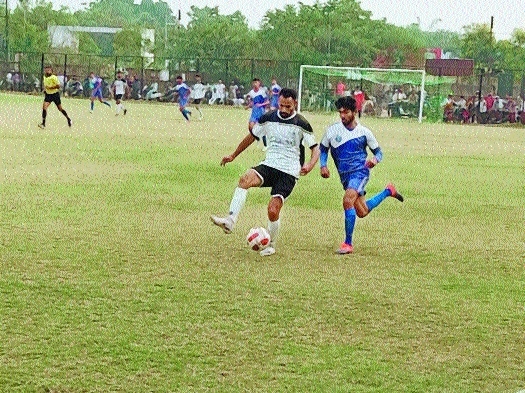 Sports Reporter :
YOUNG Muslim Football Club (YMFC) recorded an easy 2-0 win over Nagpur Blues to remain the only unbeaten team in the JSW-NDFA Elite Division League Championship in league stage. YMFC accumulated 25 points from nine games winning eight and drawing one. A marginal loss meant that Nagpur Blues stay in Elite League for the next season. Nagpur Blues and Qidwai Club both ended their campaigns at five points each. But with a better goal difference of minus six to minus ten, Nagpur Blues avoided the relegation final which will see Qidwai play Big Ben, who finished at the tenth spot in the ten-team league with just four points in their kitty. The winners will stay in the Elite League will the losers will be demoted to NDFA Senior Division League Tournament for next year. In the penultimate match of the league played at NDFA Ground in Suyog Nagar, Mohammad Sujhat put YMFC ahead in the 25th minutes of play. Yash Shukla's measured pass was put past the rival goalkeeper for a 1-0 lead.
The score remained so at the lemon break. Eleven minutes into the second half, Shukla was again the centre of action. He dribbled past two Nagpur Blues defenders and hit a powerful shot that deflected inside after hitting rival defender Shahzad for a own goal. YMFC's Mohammad Sujhat (46th) and Blues' Shahzad Khan (61st) and Nadeem Khan (67th min) were cautioned during the match. Only last match of the Elite Division League remains to be played. It will be a good practice game for the both the team who have already made it to the top four for Super League that begins January 4. Incidentally, the same teams would play first match of the Super League. On Sunday: Ansar Sporting Club vs MOIL XI.