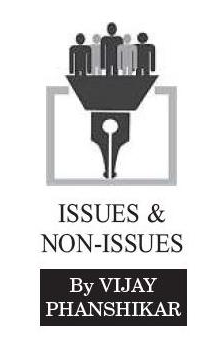 "Netaji's hologram image at India Gate will prove to be a point of correction of many of our historical blunders ..."
- Prime Minister Mr. Narendra Modi, on January 23, 2022.
BY ANY standard,this is a courageous statement that the nation had waited for long. The very fact that the Government has installed an interim hologram statue of Netaji Subhas Chandra Bose under the historic canopy at India Gate, has made a lot of difference to India's current socio-political and cultural narrative. A hope has emerged in people's minds that at least from now onward, Netaji Subhas Chandra Bose will get appropriate importance in the national consideration. There is every reason for the people now to believe that the true story of Netaji would be placed before the nation. And another part of the hope is that those who distorted the Netaji story for decades on end sheerly for political reasons will be forced to change their deliberately distorted narrative. The people, thus, will know the truth about how a true national hero was pushed into darkness of a national memory lapse.
Of course, the people do know the general story of Netaji Bose. But it is actually too general, too superficial, and too casually handed down to the younger generations. Or, one may even say that the story of Netaji was distorted deliberately and told to younger generations -- taking care that the leader of the Indian National Army and the first Prime Minister of free India through the Provisional Azad Hind Government that had diplomatic recognition from as many as 11 countries, does not overshadow other national leaders. The story of Netaji, thus, has been carefully crafted only to keep the hero of Azad Hind Government in oblivion.
It was from that angle that Mr. Narendra Modi asserted that the Government was seeking to correct historical blunders of the past.
No matter the official version of the story of Netaji Subhas Chandra Bose, fairly big numbers of historians and researchers have sprung up in the national and international domain in the past quarter of a century to unearth countless hidden aspects of the Netaji story. That they have dug out various details of Netaji's life is only a smaller part of the whole picture. The bigger part relates to another terribly irksome aspect of history -- that exposes how the people in political power in free India did everything possible to subvert truth about Netaji, and even tried to paint him as a fascist (just because he sided with Germany, Japan, and Italy.
All these dirty details are now being exposed systematically, thanks to the meticulous research conducted by countless people not just from India but also from other parts of the world including Pakistan. Each of those accounts suggests only one thing -- the powers that be in free India only treated Netaji in the most shabby manner. These powers that be also indulged in loot of the treasures of the Azad Hind Government on the sly, distorted historical accounts, and even are said to have arranged for physical elimination of several of Netaji's past colleagues or sympathisers.
However, thanks to the relentless efforts of several researchers and historians -- and others -- that the complete truth about Netaji Subhas Chandra Bose's life is beginning to come out in the open for everybody to know and benefit from.
The purpose here is not in the least to get involved in any political controversy about Netaji. The purpose is straight and simple -- to bring before public a more realistic picture of what the rulers of free India did to Netaji Subhas Chandra Bose.
Just as Mr. Modi talked of correcting historical blunders, a few others, too, did similar work over time. One of the earliest questioners of a wrong narrative was none other than the legendary Member of Parliament Hari Vishnu Kamath -- who also was Netaji's colleague.
Right in the Constituent Assembly and later in Parliament, Mr. H.V. Kamath raised the subject of putting up Netaji's portrait in the Parliament Complex. That insistent request was turned down. Later, however, Communist Member of Parliament Mr. Samar Guha got to know a lot many details of Netaji's life, and sought to have his portrait put up in Parliament. In that endeavour, one Member of Parliament helped him in a big way was Mr. Atal Behari Vajpayee of the then Jan Sangh. Thanks to their insistence, the Government agreed to put a pertain of Netaji in Parliament, which was done in October, 1978. Thus, the nation recognised Netaji Subhas Chandra Bose as a national hero a full 31 years after Independence.
Of course, the people do know the details of how the hologram image of Netaji went up under the canopy at India Gate. Despite a wide publicity to the detail, some people still ask naive questions about the action. So, for record, it just be put up before people that under than canopy -- which is quite huge -- there stood a statue of King George the Fifth -- as if it was a proud assertion of the British dominance in India. Then, in 1965, a crowd of people advanced on the statue and disfigured it. That disfigured statue still stood under the canopy for a couple of years -- when finally Prime Minister Mrs. Indira Gandhi had its removed. The hologram image of Netaji has now come up in that place -- to be replaced by a 28-foot granite statue as soon as possible -- probably on August 15, 2022 when India celebrates competition of 75 years of Independence.
It should make a great sense for all of us to know how this event symbolises a historical correction. It is suffice to know at this moment that the people in power in Independent India did not do justice to this great hero of freedom struggle. Those details in subsequent chapters would not be meant to create bad blood; the purpose would be to re-tell ourselves the true story of Netaji Bose in honest details.