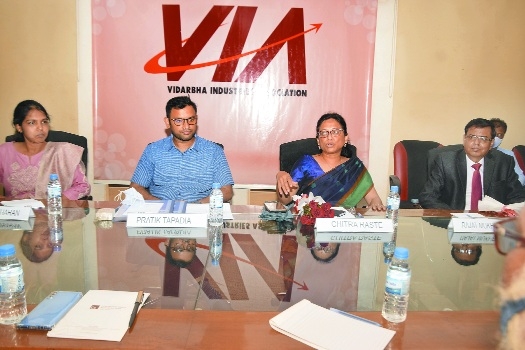 Chitra Raste (second from right) addressing the session held here at VIA Auditorium at Civil Lines while others look on.
Business Bureau :
Vidarbha Industries Association EXIM Forum organized an Outreach Event with focus on New Initiatives of India Exim Bank, for Exporters, recently at VIA Auditorium, Nagpur which was attended by exporters of different industries. The event started with an address by Chitra Raste, Deputy General Manager & Regional Head Pune Office of India Exim Bank. She mentioned that India Exim Bank is wholly owned by the Government of India established under Export-Import Bank of India Act 1981, with the aim to promote, facilitate and finance exports from India. She briefed about the Ubharte Sitaare Programme of the bank which is aimed to support companies with a unique product, process or technology with huge export capabilities. Presentation of India Exim Bank's existing products and new initiatives was given by Divya Hariharan, Chief Manager (Business Development Group) of India Exim Bank.
She informed the participants that Exim Bank currently offers financing options to Indian exporters for their Greenfield expansion, brown field expansion, import of equipment, overseas acquisitions and for research and development. Exim Bank also extends non-fund based facilities to the Indian companies executing projects overseas. The NFB facilities are in the form of bid bond guarantees, advance payment guarantees, performance guarantees etc. Apart from this, the Exim Bank also extends loans to the buyers of the Indian exporters, under Buyers' Credit Programme. Two of the major new initiatives introduced by India Exim Bank are Trade Assistance Programme (TAP) and Factoring. TAP aims to facilitate and enhance India's exports globally. It will build a network of partnerships of commercial banks in India and identified overseas banks.
TAP will offer participating commercial banks in India partial or full guarantees to cover payment risk on banks in the emerging markets. The other new initiative of the India Exim Bank is factoring. India Exim Bank is in the process of setting up a new venture for factoring which will support open trade transactions of the Indian exporters. Rajat Mukherjee, Branch Manager of ECGC, Nagpur also gave a presentation on ECGC. He spoke about the role of ECGC as an Export Credit Insurer, Risks covered, Products offered to Exporters i.e. Consignment Export Policy and Global Entity Policy, Shipments (Compre-hensive Risks) Policy, Specific Shipment Policy (SSP), etc. The session was followed by a Q&A sessions were speakers cleared the doubts of participants. Earlier, Pratik Tapadia, Chairman of VIA EXIM Forum, welcomed the guests. Kaushal Mohota summed up the session and also proposed the formal vote of thanks.