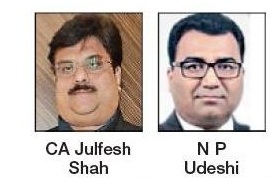 Business Bureau :
Finance is said to be the 'blood' of any business organisation and neither over financing nor under financing but optimum finance is a key to success for any business organisation, said renowned Project & Subsidy Consultant CA Julfesh Shah while adressing a seminar organised by Enterpreneurs Guild. He further said that project finance is a long-term financing of any business venture including infrastructure, commercial and industrial projects based upon the projected cash flows of the project rather than appraising the financial statements of its stake holders & sponsors. CA Shah clarified that organisations require long term finance to meet basic objectives, to set up, modernize and expand business activity,to acquire fixed assets for facilitating productive endeavor and require short term finance to meet the day-to-day working capital requirements i.e operating cycle.
A portion of current assets is to be met through long term sources for having long term stability, liquidity etc in the event of exigencies. Project Finance is a process of evaluating and selecting long term investments that are consistent with the goal of shareholders (owners) which is wealth maximization. He further highlighed that due to the complexity and uniqueness involved, a capital project needs to be launched after analysing past environment, studying existing environment and forecasting future environment. CA Shah further said that, "we need to determine the nature of project whether it is a new / freen Field project, expansion /modernisation of existing facilities at the same or different location, forward / backward integration, cost reduction project, diversification, debt restructuring schemes), technical details like capacity, available working days / shifts, manufacturing process, location, raw materials, power requirement, man power requirement, product mix,finalization of source of finance own funds i.e. retained earnings, promoter's contribution, borrowings - internal sources, external sources,economic benefits like whether helpful for development of ancillary units, local manpower engaged, foreign exchange etc.," he added.
The key to any project finance is to use a right mix of debt and equity. There are a number of issues highlighted which need to be considered for the purpose of financing of the project, Shah pointed out. Besides, it is important that due care is taken in drafting the documents concerning the financing of the project. The companies should adopt the project financing structures so that the objective of shareholder's wealth maximization can be achieved. As the world is heading towards a global integrated market and as the demand for private capital in infrastructure assets is increasing, project finance will continue to play an important role in both developed and developing markets,concluded CA Shah. At the outset, N P Udeshi, Chairman of Corporate Entrepreneurs Guild, made the welcome remarks and S H Singh, Convenor, introduced the speaker and also proposed the formal vote of thanks in a programme widely attended by enterpreneurs from various sectors.