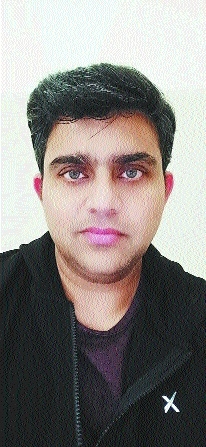 By Anupam Soni :
VCA plans IPL-type tourneys at district level
VIDARBHA have proved their mettle in red-ball cricket but still lag behind in white-ball formats. New president of Vidarbha Cricket Association Adwait Manohar wants improvement in that field along with uplifting the standard of women's cricket in the region. The 41-year-young administrator, who used to open the innings for Vidarbha in his playing days, also has plans to start IPL-type tourneys in the region. Manohar feels that during this pandemic time, with morale down, players need support and encouragement to get going. "We need improvement in white-ball cricket. We have been doing well regularly with red ball having won Ranji Trophy and Irani Cup twice each. For last many years, in fact from the time the Twenty20s started, our performance in white-ball cricket, more so in T20s, is not up to the mark. We need to take some major steps to improve in that field. "Though we played well this season (Syed Mushtaq Ali T20 where Vidarbha reached semi-finals), we won just one or two competitive games. I feel our performance against teams from north-east region must not be considered. We have to see what can be done to improve our white-ball cricket," Manohar said in an interview to 'The Hitavada', on Monday.
"The next thing is about women's cricket. The standard is not improving. There is stagnation. Though we are not at the bottom, there is hardly any improvement. We brought professional players in 2011 for Ranji team and after that only we saw results coming. I have asked the new women committee members to explore this aspect. Professional players will benefit women's cricket. From last 3-4 years we have brought coaches from outside also," said Manohar, the second youngest after his father Shashank to head the premier institution. "Moreover, we are short of women players. Even when we conduct trials at district level, very few players turn up. The pool is very small. Professional players will bring some positive changes," he added. Manohar cites lack of opportunities and a bit of hard luck for Vidarbha players not making to Indian Premier League (IPL) or India squads. "The talent hunt teams of IPL franchises don't see red ball cricket. They watch only T20 matches, not even the one-dayers as there is a huge difference between both the white-ball formats. And as I already mentioned, we are not performing well in that department. "Regarding making it to India squad, Faiz (Fazal) has been doing well for so many years. He was included in India team when selectors gave rest to regular India players. There was (KL) Rahul also. Both did well but while Rahul got more opportunities Faiz did not get many. These things are not under our control, selectors take the final call. Our players are not getting regular chances.
They have been doing well but not getting enough opportunities. Luck factor is also there," said Manohar, who has been practicing law since last 19 years. Vidarbha do not have a permanent head coach since the departure of Chandrakant Pandit. Talking about appointing a full-time coach for the senior team, Manohar said they would think about it when the pandemic is over. "There has been uncertainty due to the pandemic. People were expecting third wave in September-October last. We thought it would be waste of coach's efforts since we did note even practice regularly. Pritam (Gandhe) was coaching Mizoram team and we asked him to take charge of the team as coach. Though he was interested in junior cricket, he graciously accepted our offer. And also at the senior level, one does not need a proper coach. What the team needs is a strategist and a person who can mentally comfort players and uplift the spirits of team members. Mere coaching is negligible at this level. Nobody has approached us as of now and we will short-list proper candidates at the right time," explained Manohar.
Manohar strongly believes in the horses for courses theory. That is why he advocates segregation of talent for each format. "Nowadays there are players for different formats. There might be very talented players but they don't want to play red-ball cricket. Such is the craze for IPL that players are more interested in playing IPL than representing India. Proper segregation of talent is a must. "On that lines, I have some plans. I want to introduce IPL-like cricket tournament. It will be in two-three phases starting from district level. There will be proper trials and nobody will be left out. Opportunity and encouragement must go hand in hand if we want to develop cricket in these tough times. It will be on the lines of BYJU's tourney that we recently had.
"Proper formatting needs to be done and I have that in my mind. There will be a group of 3-4 teams from each district then there would be inter-group matches. Finally top players will play the mega finals," Manohar said. Manohar also understands that 'catching them young' is important. "School cricket is a big area. We had already declared about starting the trials this season. But now the situation is such that we have stopped cricket totally. Also BCCI is not conducting any tournament in age group cricket. We believe that prevention is always better and we don't want to expose young students to this alarming situation," he signed off. n