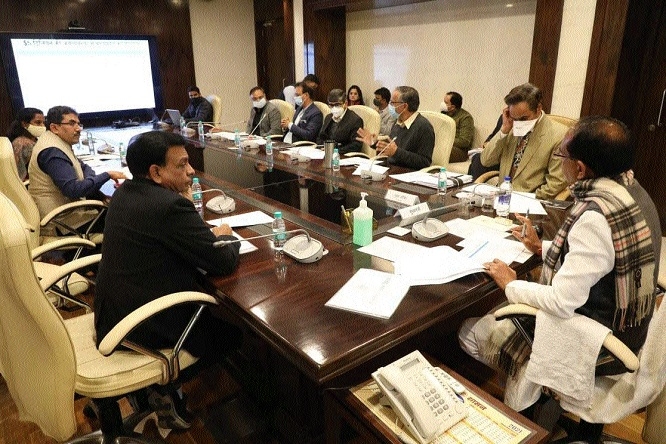 Chief Minister Shivraj Singh Chouhan reviews the Finance Department in Mantralaya on Monday.
Staff Reporter :
Commercial Tax Department plays an important role in the goal of self-reliant Madhya Pradesh
Chief Minister Shivraj Singh Chouhan said that Commercial Tax Department has an important role to play in achieving the goal of self-reliant Madhya Pradesh. Along with work in other areas, revenue growth is also necessary, for which measures should be found. Along with work in other areas, revenue growth is also necessary, for which measures should be found. Make concerted efforts to increase revenue through effective control on tax evasion, continuous action in cases of illicit liquor, simplification of rules, departmental computerization, use of portals for receiving and redressal of applications for all types of licenses, making government personnel efficient in Information Technology. strengthening of internal audit system, modernizing the processes of the department. Chief Minister Chouhan was reviewing the works of Commercial Tax Department in Mantralaya on Monday. Chief Minister Chouhan said that attention should be paid to implementation of Bhama Shah Yojna, making businessmen friends and making them partners in the development of the state and adopting best innovations of other states.
Efforts should be made to increase revenue by identifying the items in which revenue is being received less. Receive suggestions from trade and consumer associations and implement them. Efforts should also be made to increase the contribution of the state in Prime Minister Narendra Modi's resolve to make five trillion dollar economy. Plan to establish two plot distilleries discussed: Establishment of two pilot distilleries through tribal self-help groups in Dindori and Alirajpur districts, plans to make tribal youths as master trainers for entrepreneurs and other research and training schemes were also discussed in the meeting. It was told that in the current financial year, about seven thousand crore rupees have been earned from excise. Total 39 services of the department are registered under Public Service Guarantee Act. Processes have been simplified in Ease of Doing Business. Under good governance, training programmes are being conducted for e-excise from user manual and video module. Work has been started in the department on the Departmental Inspection Portal developed from Map IT.
Arrangements are also being made to receive RTI applications online. The process of regular review of pension cases and writing confidential character sheets and annual immovable property sheets has been started from the NIC portal. The long-term goals of the department include rationalization of liquor duty, checking collection, transportation and sale of illicit liquor along with increase in revenue collection. In the budget estimate for the year 2022-23, the target of excise revenue has been kept at about 12 thousand crores. Five critical modules have been customized in e-Abkari. The heritage policy is focusing on employment generation in tribal areas. Major instructions of Chief Minister Chouhan n Efforts should be made to increase GST collection. n Increase utilization of the proposed SAMPADA portal. n E-way bill system is currently applicable for about 50 items. Decide to apply it for other objects. n The posts should be filled as per the requirement. n There should be maximum use of information technology, so that its benefit is received in revenue collection. n Proceed towards faceless registration process. n Use of artificial intelligence in investigation works. n Review of return filing.