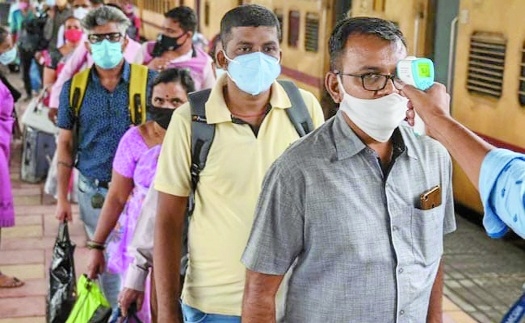 Business Bureau :
Rise in coronavirus cases acoross the country seems to have pour cold water over the upcoming wedding season and the estimated business turnover of over Rs 4 lakh crore that was expected during the period. The weddimg season that is scheduled to start from January 14 was expected to generate an impressive business turnover with solemnisation of approximately 30 lakh weddings across the country. The rising Covid cases in the country have led to impositions of various restrictions by the Governments on wedding and other related functions. The wedding trade is now likely to be reduced with a meager turnover of Rs 1.5 lakh crore devastating the hopes and aspirations of the traders.
"In the earlier first spell from November 14, 2020 to December 14, 2020, the traders had registered seasonal turnover of about Rs 3 lakh crore with solemnization of around 25 lakh weddings," said the Confederation of All India Traders (CAIT) on Monday. The CAIT further said that rising Covid cases have ruined the excitement and expectations of the traders to a greater extent who have already made elaborate arrangements and sufficient stocks of the goods generally purchased during wedding season. Besides Delhi, several other states have also imposed restrictions on persons' participation in the wedding ceremonies which will greatly reduce the wedding business. CAIT National President B C Bhartia and Secretary General Praveen Khandelwal said that there are 17 main wedding muhurtas during the second phase of wedding season and accordingly the banquet halls, hotels, marriage lawns, farm houses and other weddings places were fully geared up. In addition to the purchase of accessories at each wedding, a wide variety of services are also involved, including tent, decorators, flower decorations, crockery, catering service, travel service, cab service, professional welcome groups, vegetable vendors, photographers.
Event management has also emerged as a big business sector due to planned weddings but rising cases of Covid will significantly decrease the business volume in these verticals. Large number of younger generation, skilled, semi-skilled or unskilled persons were getting temporary jobs during the wedding season which also will be greatly affected. Bhartia and Khandelwal said that in the second phase of the marriage season, about 7 lakh weddings were estimated to cost around Rs 2 lakh per wedding, 6 lakh weddings with cost 5 lakh,10 lakh marriages were expecting Rs 10 lakh per wedding, 6 lakh marriages costing Rs 25 lakh per marriage, 50 thousand marriages were estimating 50 lakh per wedding and 50 thousand marriages with Rs 1 crore or more was estimated. Accordingly, the traders have made large preparations in view of the huge estimate of sale to the tune of Rs 4 lakh crore. In view of the flow of more than Rs 4 lakh crore in this one month wedding season, traders across the country had made a lot of preparations which will no longer be happening.