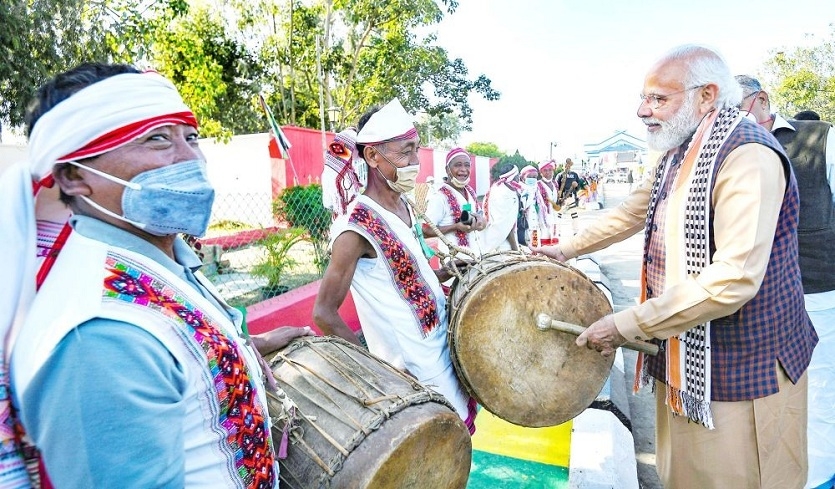 IMPHAL :
PRIME Minister Narendra Modi on Tuesday said that Manipur, Tripura and other North-Eastern States will be the hub of India's developmental mission and the under construction highways in the State would be linked with the South-East Asian countries to boost international trade. The Prime Minister said that under the "Act East dream" ambitious projects on tourism and connectivity are being implemented with all seriousness while peace has been restored in the region. "Hundreds of militants of the North-Eastern region have shunned the path of violence and joined the mainstream of development,"Modisaid,while addressing a public gathering at Hapta Kangjeibung ground inImphalafterinaugurating13 projects andlaying foundation stones of nine projects with a total investment of Rs 4,815 crore.
The Prime Minister laid the foundation stone for National highways with a project cost of more than Rs 1,700 crore, over 2,350 mobile towers built at a cost of around Rs 1,100 crore and State of the Art 150-bedded Cancer Hospital. Healsoinauguratedthenewly built 200-Bedded COVID Hospital, Water Transmission system of Thoubal Multi-purpose project and a vital steel bridge over the Barak River on National Highway-37.
He said that tourism potentialities of Manipur and the North-Easternregionarebeing fully utilised with all types of connectivities. Modialsoinaugurated the second terminal buildingofMaharajaBirBikram (MBB) Airport in Agartala and launched several welfare schemes.
Modisaideffortswere underway to improve Tripura's connectivity by rail, road and air. The Agartala-Akhaura rail track and the opening of international waterway with Bangladesh will help Tripura becomeanimportanttradecorridor and business hub of the Northeast, he added. Modi launched Mukhya MantriGramSamriddhiYojana (MMGSY) under which funds will be allocated to panchayats for development of villages, besidesreachingthebenefitsof centralschemeslikeAyushman BharatandUjjwalaYojanaand, otherbasicfacilitiestothecommon people.