Flt Lt Shridhar Ghatate: Aviator who safely landed 2 fighters with almost no fuel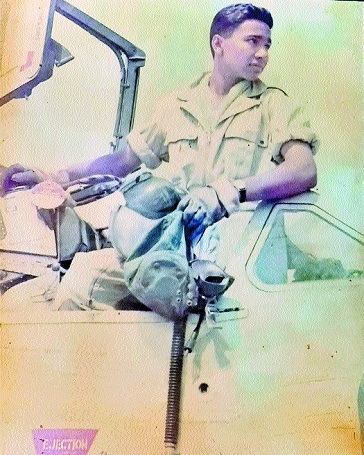 Ghatate destroyed two enemy tanks and a number of vehicles
Can anyone imagine to run a machine in air without fuel? The answer to this will always be negative. But it is said that a soldier can do anything -- turning any situation into miracle! Today, 'The Hitavada' brings to you the story of Flight Lieutenant Shridhar Madhav Ghatate, who got gallantry award for safe landing of the aircraft during 1971 Indo-Pak war. Flight Lieutenant Shridhar Ghatate belongs to the Second Capital of Maharashtra and had joined the Indian Air Force in the year 1964 when he was just 20. He was commissioned as a Pilot Officer who rendered his services to the motherland for 11 years. He was compelled to take voluntary retirement due to some personal issues in 1975. 'The Hitavada' recently interacted with his brave wife Jayanti Ghatate, who explained the act of courage and valor of her husband when he was part of Second Kashmir War and the Bangladesh Liberation War. "There are very few people who stick to their dreams and achieve it. Flight Lieutenant Shridhar Ghatate was one of them. From his childhood days, he was crazy about aircraft and flying. It was a dream for him to fly in the sky with open wings. Finally, after completing his studies, he joined the Indian Air Force.
He was a young new recruit when he fought his first war against Pakistan in 1965. At that time, he was inducted into the cockpit of Hunter aircraft," she elaborated. Flight Lieutenant Ghatate was famous as 'man of words'. Whatever he used to say he used to do it with full sincerity and dedication. Flying was his passion and he converted it into his service to the motherland. During his tenure, he got around 8 to 10 postings. Being a fighter pilot, most of the postings were in western side of country. Ghatate flew five different types of aircraft in the service period. He took part in two wars -- 1965 and 1971 -- and was awarded with Vayu Sena Medal for his bravery. When asked about the Indo-Pak 1971 war and his contribution, Jayanti Ghatate recalls, "When the order of war was issued, my husband was in Trivandrum for the instructors' course and was asked to report to the squadron with immediate effect. He went back to his squadron which was 8 Wing Adampur Air Force Station in Punjab. During the war, the nation was divided into two sectors -- eastern and western. Flight Letuient Ghatate was deployed on the Western front as a pilot with Sukhoi Aircraft," she explained.
"Even though the war was for separation of Bangladesh which was in the eastern side, but the effect was clearly seen on the western end as the Pakistani Army was giving a tough time to our soldiers on the ground. Work of Sukhoi aircrafts deployed at the Western Base was to fly across the border and destroy the ammunition depots and truck of the enemy which were carrying arms and ammunition with Pakistani soldiers. As our army was advancing further, it used to get air support. He did many sorties across the border to destroy the enemy trucks and tanks. In one of his sorties, he saw that Pakistani truck loaded with ammunition was crossing the Tabi river bridge. With his aircraft, he destroyed the bridge and went back to the squadron," she added. Jayanti Ghatate explained further and said Flight Lieutenant Ghatate did not stop here. He and with his two co-pilots went across the border another time in the heavy artillery firing to Lahore where they destroyed the fuel station of Pakistani Army. While coming back to the base, the fuel of the aircraft went so low that it was a question for Fight Lieutenant Ghatate whether to get out of the aircraft or land it safely. However, the brave man decided to land it. But the officers were not in favour of his decision as this might have caused a huge damage to aircraft and air strip.
Ghatate was firm and executed the landing of Sukhoi safely in Punjab. The aircraft was towed by the trolly as the fuel was totally nill. This happened with him twice during the 13 days conflict, she narrated. With his valour during the operations against Pakistan in December 1971, Flight Lieutenant Shridhar Madhav Ghatate, a Senior Pilot of a Fighter Bomber Squadron, flew twelve operational missions and destroyed two enemy tanks and a number of vehicles. On two occasions when his aircraft was hit by ground fire, he bought his aircraft to base with almost no fuel and saved two operational aircraft. He set an exemplary example of courage for future pilots by hitting the enemy positions despite heavy ground firing and in complete disregard to his personal safety. This brave hero of the Indian Armed Force throughout the war displayed courage, professional skill and devotion to duty and nation.