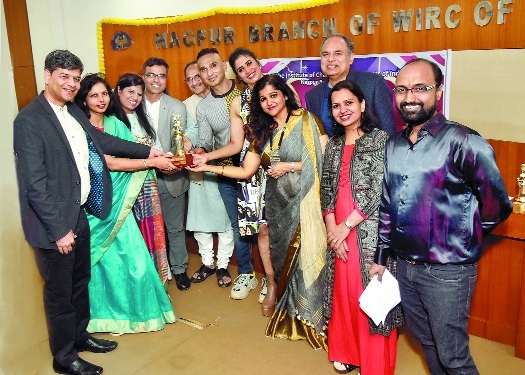 Business Bureau :
NAGPUR Branch of WIRC of ICAI recently organised a seminar on 'Professional and Networking Guidelines' under 'Young Member Mentorship' programme. The highlight of the event was that it was designed for CA couple members and the lecture was also delivered by CA couple members. "Your network is your networth," said CA Saket Bagdia, Chairman of Nagpur Branch. With the diversification in various professional avenues, it becomes difficult for individual / small firms to cope up with the requirements. To enable CA members to enter into a networking model to enhance professional capacities and to perform bigger tasks together, ICAI has released 'Networking' guidelines to be followed by members.
He said, "This is a welcome step and urged members to take maximum benefit." He said that during the times of COVID-19, the importance of balancing professional and personal life has become all the more important. Bagdia pointed out that with increasing compliances and responsibilities, professionals are required to maintain proper balance and should take proper care of health and devote sufficient time for family. The session on 'Balancing professional and personal life' was taken up jointly by young CA couple -- CA Aayush and CA Chitra Agrawal. The importance of the term balance in one's life was effectively explained by them. The next session on 'Networking guidelines of ICAI for professional excellence' was taken up jointly by CA couple CA Gaurav and CA Premlata Saboo. All the guidelines prescribed by ICAI were explained in a meticulous manner by the couple. Nagpur Branch of ICAI also organised a unique event 'CA Couple Carnival' sponsored by Aalishan Mens Wear. CA Saket Bagdia informed that there are a number of Chartered Accountant Couples in Nagpur city and thus an event was organised to bring these couples together.
There were various games and activities organised for the CA couples which was effectively conceptualised and co-ordinated by CA couple CA Swapnil Agrawal and CA Neha Agrawal. The winners of Most Compatible CA Couple'2021 were CA Swastik and CA Richa Jain while runners up were CA Anupam and CA Shruti Bafna. The award for Best Dressed CA Couple'2021 went to CA Sagar and CA Nidhi Agrawal. The winner for Aalishan's Made for Each Other Couple'2021 was CA Gaurav and CA Premlata Saboo whereas CA Arvind and CA Shrutika Inani were the runner's up. A special award of Debit = Credit CA Couple Award'2021 was given to CA Arpan and CA Minal Lohiya and CA Aayush and CA Chitra Agrawal. The event was judged by Alok and Sunita Khandelwal of and Akash and Shilpa Agrawal.