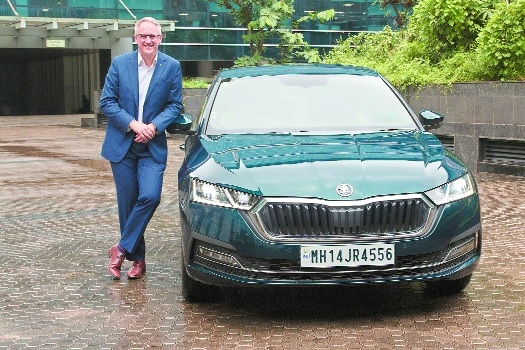 Business Bureau :
The year 2022 is slated to be the biggest year for Skoda Auto India ever since its entry into the Indian market in 2001. With a focused market strategy built around its consistent product launch campaigns, focus on enhancing the after sales and customer satisfaction drivers and increasing its network presence across the country, Skoda Auto India plans to triple its annual sales volumes in 2022 and further build on the positive momentum created last year. From 10,387 cars sold in 2020, Skoda Auto India achieved a triple digit growth of 130 per cent with 23,858 units sold in 2021. For 2022, Skoda Auto India aims to triple the 2021 sales volumes, keeping the mid-term target of 1,00,000 units set for 2025. The growth in 2021 and the projection for 2022 is based on the successful implementation of the first leg of the India 2.0 project.
A project that involved the development of the MQB A0 IN platform made specifically for India, that formed the base for the launch of the KUSHAQ. With the start of the new year, Skoda Auto India will be launching the new KODIAQ on January 10, the first of the 6 product actions planned for 2022. Continuing the charge will be the all-new SLAVIA sedan. Built on the same MQB A0 IN platform as the KUSHAQ, the SLAVIA will be the torchbearer of Skoda Auto India's 2022 calendar, alongside KUSHAQ. Providing further impetus to the product blitz will be enhancements across the product line-up, which include updates to the KUSHAQ, OCTAVIA and SUPERB. Zac Hollis, Brand Director, Skoda Auto India said, "Despite challenges of the pandemic and a global chip shortage, Skoda Auto India stuck to its outlook and recorded a 130 per cent growth in 2021. We will build on this strong momentum and focus on the diverse range of products, with constant product actions.
At the same time, we look to set new standards of customer satisfaction and further enhance the after sales experience, continue with our network expansion and treble our sales volume. I am confident that these actions will establish Skoda Auto India as a player of reckoning in 2022. At the onset of the new year, we are on track to achieve the goals we have set for ourselves, which positively reflects our commitment to India." In order to gear up for the aggressive sales volumes for 2022, the brand will build on new and existing avenues like its 'Certified Pre-Owned' brand, 'Corporate Sales' initiatives, increase penetration in rural markets and also continued focus on dealer manpower training, which is essential the business operations.