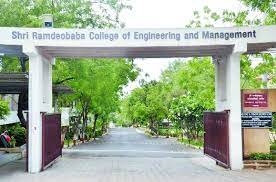 SHRI Ramdeobaba College of Engineering and Management (RCOEM), Nagpur, a leading autonomous institute in Central India recently granted with six innovative patents in a month in the field of engineering and technology.
A product patent in the field of Mechanical Engineering with the title 'Design and fabrication of a plastic bottle crusher' was granted to Dr Y M Sonkhaskar, Assistant Professor, department of Mechanical Engineering, along with his team comprising Amitkumar Choubey, Anurag Sahu, Amritpal Singh Bhamra, Raghav Singhal and Sunny Kashwani.
This project involved the process of designing and fabricating a crusher machine specially designed to crush plastic bottles.
A Triboelectric Generator for generating electricity using wave energy, a patent granted to Dr Suresh Balpande, Assistant Professor, department of Electronics Engineering, Dr Gajanan Nikhade, Assistant Professor, department of Mechanical Engineering and Pranjali Chakole, Research Scholar, M.Tech (VLSI Design), department of Electronics Engineering.
The system can be used to energies sensors and electronics deployed in the field for saving lives and the betterment of human life. In addition, such arrangement can be installed at river bed for in-situ water quality monitoring for the sustainability of human life, flora, and fauna, etc.
Another patent 'A Wrench - Continuous Rotating Hydraulic Torque Wrench'. The innovators were Prof Prashant Shiwalkar, Assistant Professor, Industrial Engineering, Jeetendra Nayak, Managing Director, Minar Hydrosystems Private Limited, MIDC, Hingna, Naval Rajas and Shivrai Kulkarni students of Mechanical Engineering department.
Patent titled 'Low cost and high strength paver block made of proportioning ingredient materials' was granted to Dr Sumit Geete and his fellow students in Civil Engineering department -Akshay Shirpurkar and
Aditya Lakhe.
A fixture for manufacturing furniture is a patent granted to Dr V S Deshpande, former Professor in Industrial Engineering along with his undergraduate students Nityam Karn and Aniket Deshpande.
The project titled 'Concentrated solar photovoltaic thermal system' proposed by Dr Sandeep Joshi, Assistant Professor and his PG student Kapil Patil in department of Mechanical Engineering received patent recently.
The system can be effectively used for domestic and community applications to meet the electricity and thermal needs simultaneously.