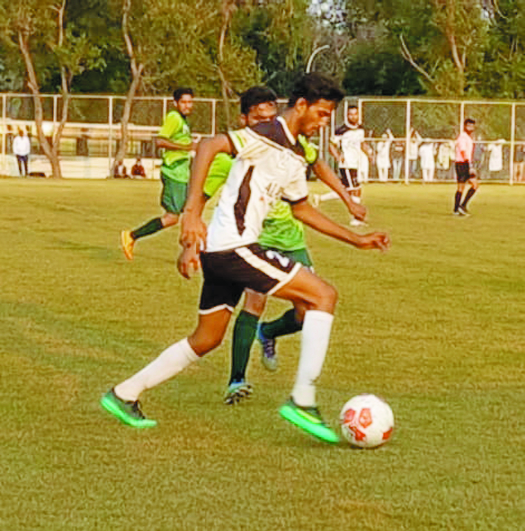 Sohrab Akhtar scored 150th goal of the JSW-NDFA Elite Division Championship 2021-22 as Ansar Club, Kamptee stunned former champions Young Muslim Football Club (YMFC) 2-0 to go top of the Super Legaue (Four Team) table.
The win also helped Ansar Club inch closer to the title clash as they have so far kept their slate clean with two wins from two outings. In their first match of the Super League, the Kamptee based outfit had got the better of MOIL XI 3-0.
Mohd Owais Ashraf, who himself has six goals to his name so far in the competition, crossed a perfect ball towards Sohrab who made no mistake in beating YMFC goalkeeper in the 14th minute of play. The former five-time champions YMFC tried hard to draw parity but Ansar defence was tough to thwart their moves. The change of ends gave Ansar another opportunity and they succeeded in doubling the lead in the 72nd minute.
Owais was again the architect as he once again took advantage of weak wing of YMFC crossing the ball towards an unmarked Mustajab Ansari who had no difficulty in scoring team's second goal of the match and his third of the competition.
The match saw several cautions with Ansar's Nushrat Kamal, Md Shabab, Sohrab, Md Saad, Furqaan Raza receiving yellow cards while Fuzail Pasha getting marching orders with double yellow. Similarly, YMFC's Fahad Junaid and Kamran Ansari were also cautioned.
On Saturday: Rahul vs MOIL XI at 2.30 pm at Kalmeshwar.