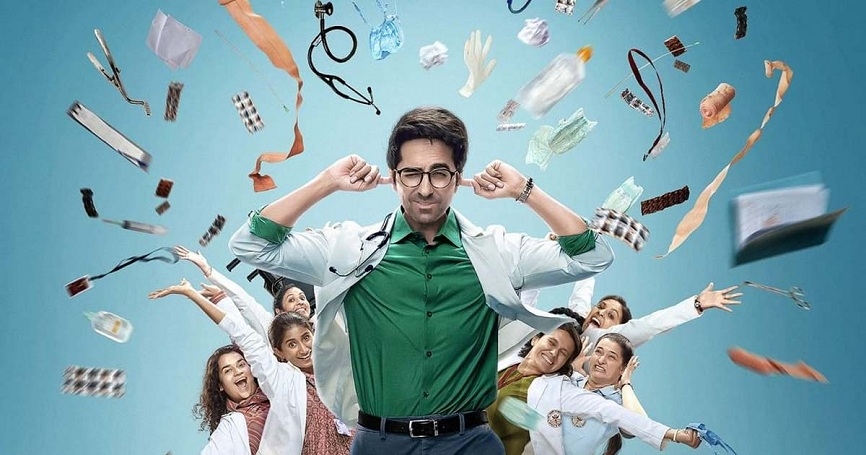 By Aasawari Shenolikar :
WHILE watching Anubhuti Kashyap's Doctor G, one thought that was running through my mind throughout the two hourrun was that of a dearfriend, settled in the USA, who refused to let a male Gynaecologist examine her after she conceived. She waited, for days,till a female Gynaec couldscheduletheexamination."Ijustcouldn'tbear the thought of a male, even if he's a qualified Gyn & OB, to examine me," was her excuse. Maletouch-thatisoneofthecoreissues,amongst many others relevant ones, that Doctor G addresses. How many of us here in our own country go to a male Gynaec when it is time for us to visit a doctor dealing with female problems? Not even a handful. The reason that most give is 'we do not feel comfortable.'ButlikeDrNandini(Shefali Shah) HOD of the Gynaec Dept tells Dr Uday Gupta (Ayushmann Khurrana),thelonemalememberin the PG class full of girls, "You have to lose the male touch.Gendershouldn'tcomeintoplayinthisdepartment. A doctor is a doctor". However, Dr Gupta is fastidious in his approach towards the PG course - "Joh cheez mere pass hai hee nahin, toh main uska ilaaj kaise karoonga?" Dr Nandini is but naturally aghast at this contention, but the strict HOD is very clear when she spells it outto him that she holds her department in the highest esteem and she will not let anywayward fresherbring abadname to it."Step up your game, and become a responsible doctor," is her directive to him. But preaching and practising are two different things. The gender equation is deeply entrenched in our minds right from the beginning, and when Uday points out, "Hamari society mein ladke cricketkheltehainaur ladkiyanbadminton,"this isaclear indication of how Uday looks at a man and woman in a particular profession.
When such a line is drawn between the genders, right from the beginning, is it any wonder then that Dr Uday Gupta, would ever choose Gyn& OB of his own sweet accord? Nah! Becausehecouldn'tgettherequiredmarksforadmission in Orthopaedics, he is forced to take admission in Gyn&OB. And imagine his plight when he finds that he is the sole male student in a class full of girls. Nownotsomanyyearsago,thissituationwasreversed in many an Engg college and believe me the male students were more than happy. Not so the female students in this class, whom Uday starts with on a wrong foot. And hell hath no fury than a woman scorned.Imagine what would be the outcome when it is a group of scorned women. In the beginning, the seniors make life miserable for the fresher who is still hankering after a seat in Orthopaedics.Later,as timepasses,andmanyissues andincidents shape andmouldhis thoughtprocess, these very colleagues turned friends rise up to rescuehimfroma fewdire situations thathe findshimself in. Dr Fatema (Rakul Preet Singh) becomes a dear friend, and Dr Nandini, who comes across as very harsh, is the one who mentors him and stands by him. Doctor G stands out and apart on many fronts - a fantastic screenplay, relatable characters and situations, and of course superlative acting by each one of the actors.
Anubhuti Kashyap, whohasalso written the screenplay along with others has done anamazing job with itfornowheredoyoufeelthatthe situations are contrived or cliched. Those in the medical profession will vouch for what's unfolding on the screen, and those with doctors as their BFFs will vouch for all the incidents that are sometimes narrated to nonmedico friends at coffee meetings. The movie, in a very subtle way, touches upon so many core issues that are relevant - ragging, what happens in the labourroom,themedicalcodeofethics -howimportant it is, issue of rape, MTP etc. And there is nothing preachy about it.
During a tender moment, Fatema and Uday exchange a kiss -Fatema, engaged to someone else regrets it but doesn't make a hullabaloo about it. "It happened, but I do not want to lose a friend over something that shouldn't have happened,"shesays.Maturethinking.Andthat'swhat makes this movie, very different, very refreshing, a must watch. Ayushmann Khurrana has a knack for picking offbeat scripts and doing wonders with it. As Dr Uday Gupta,heupshisgameagainandleavesusawestruck with how easily he carries each role. He's done similar roles a number of timesearliertoo,butthenwhyshould the audience complain when they get to watch a good film after a long, long time. His embarrassment at his mother Shobha (Sheeba Chaddha)tryingtofindadateonTinder,orhis reluctance to let go of his girlfriend who wants to end the relationship, or standing up and defending himself when he is getting a dressing down - he owns the screen. Likewise the same can be said for the brilliant actor Shefali Shah, who again, wows the audience with her screen presence.
I, on a personal level, can never get enough of this brilliant actor. Like Ayushmann, she also has an uncanny propensity of picking a winning script. But it is not just these two alone who light up the screen. Rakul Preet Singh's character is lovable and Sheeba's speech on 'sacrifice' was spectacular. Ayesha Kaduskar, a teenager who falls in love with a much older man, is the surprise package of the film for she handles the role with much finesse. The first half brings on the smiles, the second half takes a serious tone with many heartwarming moments. Go watch it with your gang of friends - there's nothing vestigial about Doctor G! The Hitavada Rating: ✯✯✯1/2