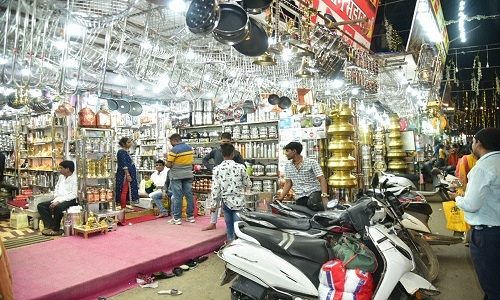 Business Reporter
Jabalpur markets are all set for inviting customers for shopping on the occasion of pious Dhanteras and Diwali festival. On the eve of Dhanteras, the city markets are decked-up in full swing to welcome customers from all walks of society.
Almost all market places are jam packed with the customers for shopping to celebrate the Diwali festival in colourful manner. On the eve of Dhanteras festival, Similarly, the automobile showroom, electronic goods shops, jewellery showrooms, readymade garments, suiting shirting showrooms, sweet marts and traditional market of local items like utensils, grocery stores have filled their selves with wire range of products.
Increasing demand of sweets in market during festival seasons especially during Diwali festival, the owners of Sweet Marts are making hectic preparations to meet the huge demand of sweets during festivals. Meanwhile to check the sale of adulterated food items and to control such practices extensive search and checking drive has been initiated by the District Administration, Jabalpur Municipal Corporation along with other concerned dexpartment to maintain quality and purity of products during Diwali by conducting surprise inspection in sweets marts, hotel and other fast food centres and restaurants.
The electronic market with wide-range of electronic products including LCD television, music system, refrigerators, air conditioners, computers, laptops and other items are available in wide range presented by various noted companies with attractive offers of discount and lucky draws.
Gifts and accessories for the occasion available in shops are in various shapes and hues to catch customers' attention. The sellers are expecting a good response from customers for record business turnover this year.