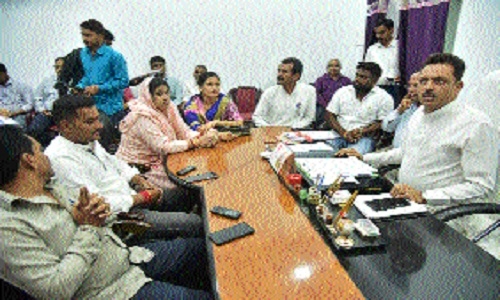 Staff Reporter
An important meeting of Mayor-in-Council (M-i-C) was organised at Jabalpur Municipal Corporation (JMC) headquarters, on Friday. Mayor Jagat Bhadur Singh chaired the meeting.
During the meeting, M-i-C members gave nod to a number of proposals related to infrastructure development.
Mayor Singh said now the corporators will be able to start construction works like roads, drains and other infrastructure development works in respective wards. He said for the works, the M-i-C has on Friday approved a revised budget of Rs 25.60 crore and forwarded the same for the consent of the House. Singh said the State's highest flag of 75 meters would be installed in the Gandhi Memorial complex at Tilwara. Mayor informed that as many as 62 cases of lease renewal were also approved during the meeting.
The Mayor-in-Council also gave nod to the proposal for installing the statue of former Mayor Pt. Vishwanath Dubey
and Subhash Chandra Banerjee and also forwarded it to the House. Apart from that, M-i-C members also held detailed discussion over city development and public interest issues and also passed proposals.