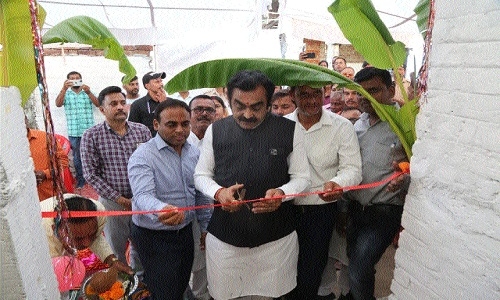 Staff Reporter
Nearly 4.51 lakh families of Madhya Pradesh got home, on the pious occasion of Dhanteras, on Saturday. In Jabalpur, 1,250 people got the opportunity to perform the house warming rituals.
Chief Minister Shivraj Singh Chouhan has extended best wishes to all the beneficiaries for getting home under the Pradhan Mantri Awas Yojana. He said people got their dream home on the auspicious day.
Prime Minister Narendra Modi virtually launched the programme of Griha Pravesh (house warming), on Dhanteras. PM's address was heard by general public through live telecast. In Jabalpur district, Member of Parliament Rakesh Singh along with Collector Ilaiyaraja T and a number of people listened to PM's and CM's address at Salivada Village Panchayat Bhawan and distributed benefits to the beneficiaries. Singh also participated in the house warming programme at the residence of Jawahar Lal Burman and Munshilal Burman in Neemkheda. He extended Diwali wishes.