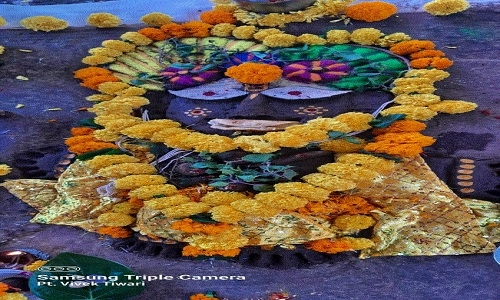 Staff Reporter
In the ongoing five-day-long Deepotsav festival, citizens celebrated Govardhan Puja, Annakoot Puja and Bhaidooj on Wednesday.
The series of festivals began with Govardhan Puja. This festival is celebrated by 'Go-palaks' mostly from Yadav community who worship their 'Godhan' (cows) with traditional rituals. As per mythology, devotees who worship cows on this day receive blessings of all deities, specially Goddess Laxmi.
Gopalak Priyanshu Yadav and Munnu Yadav, residents of Upenjganj Cherital informed that every year they adorn their cow with 5 kilogram pure silver jewellery marking 'Parma Tithi' i.e. second day of Diwali festival. The family washes their cow and worship her as per the rituals. Subsequently, they make the cow go round the entire colony where locals worship the cow with putting 'haldi' and 'kumkum' on the head.
Apart from the Govardhan Puja, Madhai Mela was also organised by Yadav community members in various adjoining villages of the city. Further, in the evening time, devotees also visited temples and offered 'Annakoot Bhog' after several rituals.
This five-day Diwali festival will conclude with Bhaidooj celebration. The festival is being celebrated for two days
this year, i.e. on October 26 and October 27 as per the astrological events. Bhaidooj is a festival to celebrate strong bond between and sister. This is owing to the partial solar eclipse, the Bhaidooj festival began in the evening time of October 26 and will be celebrated for the entire day on October 27. Bhaidooj is celebrated on the second day of Shukla Paksha of Karthik month, as per Hindu calendar. On this day, all the sisters pray for the long, healthy and prosperous life of their brothers from deity Yamraj while some single girl child who do not have brother worship moon on this day.