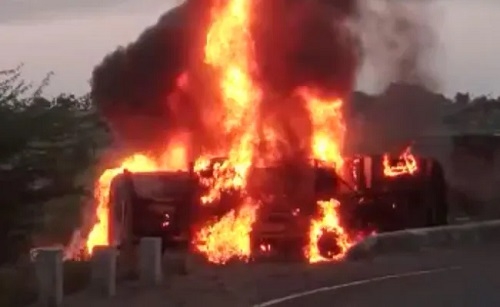 By Bhavana
Aparajita Shukla
In a bizarre accident, a girl was reduced to a skeleton when she caught fire in a blast in a tanker that turned turtle on Wednesday morning near village Anjangaon on Mogargaon-Garhi road of Bistan police station area of Khargone district in West Madhya Pradesh.
The girl was reportedly standing near the tanker. She has been identified as Rangubai, (18) daughter of Gorelal.
According to police sources, as many as 24 others also received severe burn injuries and were admitted to Khargone district hospital. Soon after the accident, the driver and his assistant fled the site and are reportedly absconding. The blast took place about two hours after the tanker overturned.
Police reached the spot as soon as the incident was reported. The fire was brought under control by the firemen. Those who received severe burn injuries, include 7 children too, while 14 other men and women have been identified.
Of the 17 are critical and have been referred to Indore for further treatment. According to police sources, the onlookers assembled at the accident site and were looking for an opportunity to siphon off petroleum products from the tanker but before they could do that the tanker blasted off and left them severely injured. Prima facie the tanker had a blast due to a short circuit, said the sources. According to police sources, the tanker was carrying approximately 12,000 litres of petroleum products of a company of national repute. The petroleum company BPCL and a team of company officials have also reached the spot to look into the matter.
The tanker had separate compartments and it was filled with 8,000 litre of petrol and 4,000 litre of diesel. The tanker, they said, was going to Jirania in Tripura from Indore.
The District Collector, Kumar Purushottam and Superintendent of Police Dharmvir Singh Yadav reached the district hospital and later MY Hospital Indore to see the enquire about the health of injured people.