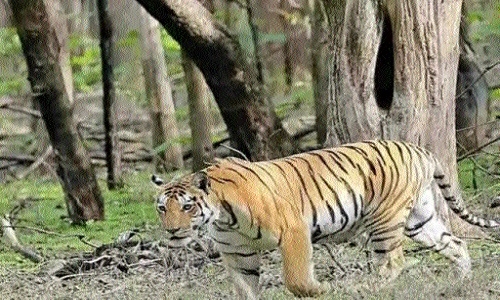 Our Correspondent
SEONI,
Night Safari, which was closed from October 1 in the Pench Tiger Reserve of Seoni district, has again started from Saturday. Tourists are once again enjoying night safaris in the buffer zone. PCCF of Wildlife, J S Chauhan had issued a letter to this effect to all the Tiger Reserves of the State, including Seoni to start Night Safari.
After receiving the letter from PCCF Wildlife management, the officials of Pench Tiger Reserve again started preparations to conduct night safari for the tourists. At the same time, after the letter of PCCF Wildlife to stop the night safari running in the buffer zone of all Tiger Reserves of MP, it was banned from October 1. The night safari was said to disturb the animal of the forest. Wild animals are used to living in natural light.
National Tiger Conservation Authority (NTCA) had objected to the Night Safari being conducted in the Tiger Reserves of Madhya Pradesh. It is said that there was a long-standing dispute between NTCA and MP Forest Department regarding the matter. After the objection of NTCA, PCCF J S Chauhan, including the Seoni, MP, wrote a letter to all Tiger Reserves of India asking them to stop Night Safari. Wild animals were said to be affected due to night safari. According to the information received, the sound and light of vehicles in the forest at night can be fatal for wild animals. Wild animals are not used to it. Night Safari was being conducted in the buffer zone of Bandhavgarh Tiger Reserve, Kanha Tiger Reserve, Pench Tiger Reserve, Satpura and Panna Tiger Reserve in MP.