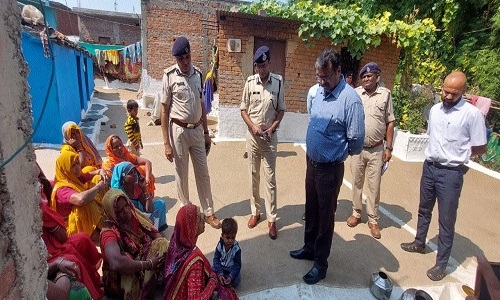 Our Correspondent
Damoh,
In the shoot- out incident at village Devran under jurisdiction of Damoh Rural police station on Tuesday, police have arrested accused Jagdish Patel and launched manhunt for the other accused.
Learning about the incident, Divisional Commissioner, Sagar, Mukesh Shukla, IG Anurag, Collector S Krishna Chaitanya, SP D R Teniwaar, ASP Shivkumar Singh, SDM Gagan Bisen, CSP Abhsihek Tiwari, FSL Officer Kiran Singh and other officers visit the village and collected details about the incident. Large police force have deployed in the village to bring peace in the village.
It may be recalled that three members of the Ahirwar family, Ghamandi Ahirwar (60), his wife, , Manak (30) were shot by members of their neighbour Jagdish Patel's family over some dispute. One family member, Mahesh Ahirwar has been admitted in the district hospital as he also received bullet injuries.
Divisional Commissioner Mukesh Shukla met the victim family and assured them that police are acting swiftly and accused would be arrested soon. All proceedings are being done to provide them compensation and aid. He assured then that guilty would be facing strict action.
IG Anurag informed that senior officers rushed to the spot soon after receiving information and a case has been registered against the accused and main accused has been arrested. He said that police are investigating the incident and remaining accused would be behind the bars very soon. Collector, Damoh, S Krishna Chaitanya said that police are investigating the case and the victim's family would be provided aid under laid down provisions.
SP D R Teniwar informed that dispute erupted between Ahirwar and Patel family and Jagdish Patel and six other family members fired at the family members of Ahirwar family and three members died on-the-spot and one was injured. Case under SC/AT Atrocities Redressal Act has also been registered. Police teams have been sent to various places to arrest the absconding accused.