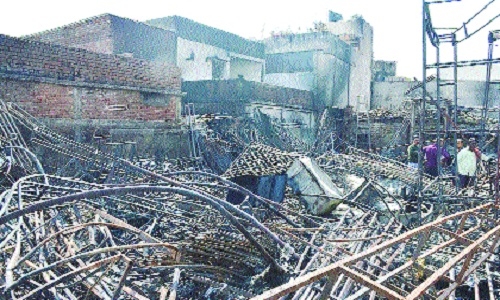 Staff Reporter
A devastating fire that broke out in the godown of a tent house gutted property worth lakhs of rupees late in the night on Wednesday. Fortunately, despite starting in a residential area, the fire did not spread to the houses, or else some untoward incident could have occured and casualties could have been reported. The fire incident was reported near Prem Nagar Post Office under the jurisdiction of Garha police station.
It may be noted that people of Prem Nagar were sleeping after the Deepawali celebrations, when suddenly fire and explosions woke them up. The incident occurred late in the night around 1.30 pm, on Wednesday. The fire was so intense that the Fire Department of Jabalpur Municipal Corporation had to seek support from Gun Carriage Factory and other factories to douse the fire.
Garha police got information that a devastating fire broke out in the godown of Jagdish Flower and Tent House located in residential area near Prem Nagar Post Office. On receiving information, the police conveyed it to the Fire Brigade Department of the JMC. Wasting no time, the department pressed all fire tenders into action. After reaching the site the fire fighters saw entire godown was engulfed by the fire. They immediately sought help from GCF and other factories. Dozens of vehicles of fire department and factories made hard toil for hours to control the devastating fire and douse it completely. In the incident the godown, packed with tent house materials gutted completely.
The exact cause of the fire incident could not be known. But, people guess that it might occur due to short circuit or even by a spark of firecracker.
There was no loss of life in the incident, but property worth lakhs of rupees gutted in fire. People said the diesel kept in the godown added to the intensity of fire which spread rapidly. Meanwhile, concerned agencies are investigating into the incident.