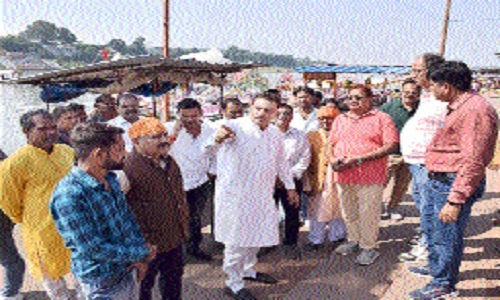 Staff Reporter
The main festival of people of North India, Chhat Mahaparv is starting from Friday. The festival will begin with the worship of Sun (Lord Surya) on the banks of rivers and ponds. To review on-going preparations for the festival, Mayor Jagat Bahadur Singh took a meeting of senior officials of concerned departments and gave necessary directions.
The Mayor, along with concerned officials, also inspected Gwarighat, Manegaon and other places where Chhath Pooja will be organised. On the occasion, he directed officials of Health Department, Light Department and all the divisional officers to see that devotees will not face any kind of problem and perform rituals around the places of worship, river banks and ponds smoothly. He also directed to maintain proper cleanliness and good lighting arrangement at concerned places of worship.
Singh said the Municipal Corporation is making special arrangements at nearly 18 places of in the city for Chhath Mahaparv. Mayor said he will keep an eye on all preparations and devotees will not have any problem in performing the worship of Chhathi Maiya. He said arrangements for fire safety, ambulance, rescue teams, drinking water etc. would also be made as per requirement. It may be noted that Chhath Puja is celebrated with great religious fervor in the city. The four-day Mahaparv is starting from Friday and will continue till Monday morning.
Chairperson of JMC, Rinku Vij also held a meeting with the officials of concerned departments and asked them to ensure all needed arrangements at the place of workshop and see people perform rituals in trouble free environment.