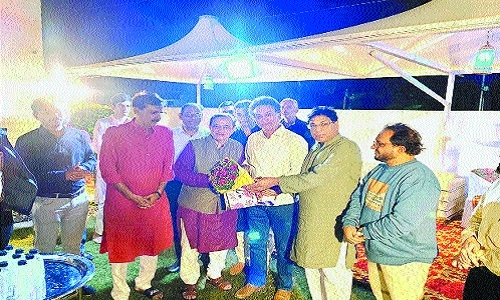 USMAN Ghani, coach of Under-19 Vidarbha cricket team, was felicitated at Jafar Nagar for his meritorious contribution towards the Vidarbha Cricket team. Under his coaching, Vidarbha colts won the Vinoo Mankad Trophy.
In the last six years, Ghani has been the Under-19 coach and Vidarbha have played five finals and won three of them including the Sunday's triumph over Punjab.
Cardiologist Dr Aziz Khan presided over the felicitation programme.
Owais Qadri, Zonal Chairman, Congress Minority Department, Dr Mohammed Faisal, HOD, Department of Orthopaedics, Government Medical College, Architect Ashfaque Ahmed, Shakeel Khan, Adv Tanveer Khan, Khalid Rahim, Ilyas Mirza, Javed Anwar, Saqib Arshad, A Adam, Aqeel Anjum, Afsar Sheikh were the guests of honour.
The programme was conducted by Miran Khan while Adv Shadan Khan proposed a vote of thanks.