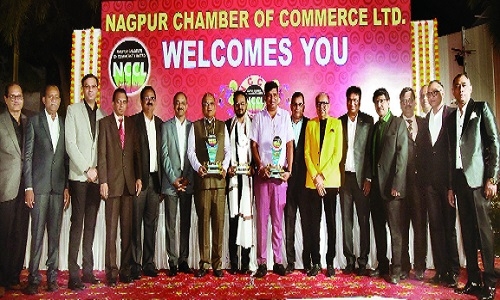 Business Bureau
The Nagpur Chamber of Commerce Limited (NCCL) celebrated 'Diwali Milan' here in the city on Sunday with great fanfare. Chairman and Managing Director of Confidence Petroleum India Ltd Nitin Khara and Vice President JSW Ltd, Kalmeshwar - Rajesh Jain were the chief guests of the function.
The chamber also gave NCCL Awards to Krishna Kumar Taori, Chairman and Managing Director of Urich Group; Laxmikant (Gopal) Telmasre of Kalpana Group and Pankaj Thakare, Director of Technosoft Integrated Solutions Private Limited.
NCCL President Vishnukumar Pacheriwala; IPP Kailash Jogani; Secretary Tarun Nirban; Treasurer Vasant Paliwal; organiser of the event Vijay Jaiswal and co-organiser Manoj Bagdi and others were also present.