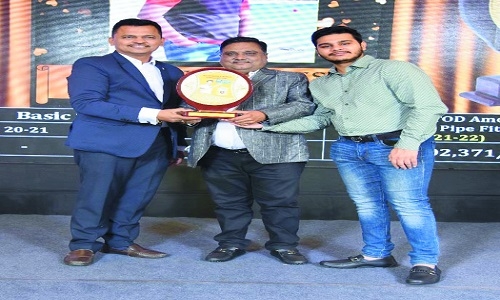 Business Bureau
R C Plasto, world's largest tank manufacturing company, conducted a PAN India dealers meet in the city recently. The meet was attended by more than 500 prominent dealers where they were briefed on the range of Plasto products designed for diverse Indian applications and industry best guarantee policy.
Commenting on the event Vishal Agrawal, Director of R C Plasto, said, "We recognise the invaluable support and love that are fellow associates have towards us. This is the least we can do for them to have a delightful evening every now and then. It is their support and trust that enables us to deliver quality products timely."
"The meet gave us a great platform to conduct to communicate Plasto's service quality to our dealer partners. As we make deeper in roads in the country, such activation play important role in enhancing the customer service experience. We have been serving the nation for past 36 years with quality and commitment," he said and added that company has introduced many new products.
The official dealers of R C Plasto were introduced to the latest products and solutions offered by the company. During the meet dealers were also apprised on various dealer incentive programs and schemes.
The dealers said that due to the quality of the product provided by Plasto it has become the choice of customers. On the occasion, Plasto also conducted a dealer award on the basis of highest sales region wise. The Directors of Plasto announced the winners and gave awards.
Earlier a entertainment programme was organised. Swaraj Traders (Nanded) and P R Enterprise (Vidarbha) won first prizes for Maharashtra and Vidharbha region respectively.